December 14th, 2009 by
Benj Moorehead
in
International
,
New Zealand
,
Pakistan
,
Test cricket
,
The media
,
west indies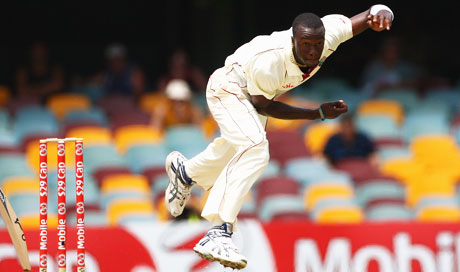 Sometimes we focus so much on what is wrong with Test cricket that it is easy to forget the joy it continues to provide, never more so than in this particularly frenzied period of Tests.
The recent series between India and Sri Lanka may have been too batsman-friendly but it provided some extraordinary passages of play. Who could not have wished to see Virender Sehwag's assault in the third Test, elegant and brutal in equal measure? For Sri Lanka, Tillakaratne Dilshan's innings were also moments when you had to bin ideas of work and focus on some ball-by-ball Test cricket. There were personal narratives too – Sreesanth, suddenly the grounded, almost geeky bowler of immaculate line and length, Murali suddenly lacking in fizz and accuracy. And Angelo Mathews – doing an Atherton when on 99 and in sight of his first Test hundred.
The Ahmedabad pitch immediately came under fire in the first Test of that series and rightly so: it failed to offer the bowlers enough on day five. But up until that point it was a good, subcontinental Test match. India will not provide the seamer-friendly conditions found elsewhere but that is the appeal of Test cricket around the world – players must adapt to different conditions and this brings a rich variety to the cricket.
Over in Australia, the prospect of a series against West Indies underwhelmed the local media, but there were things to admire about the visitors even in that first Test drubbing: Kemar Roach bowling at 150kmh, and pitching the ball up admirably (as he has done all series); Adrian Barath, a 19-year-old debutant, making an attacking hundred in the second-innings and scoring half of his side's runs.
In the second Test the West Indies would hold the upperhand throughout. Chris Gayle, who apparently has no time for defensive shots or for Test cricket, played with fascinating constraint to set up possible victory and Dwayne Bravo, outstanding in both disciplines throughout the Test, nearly conjured a win on the final day.
The New Zealand-Pakistan series is the ace in the pack. Two sides entirely uncertain of themselves and bowler-friendly conditions have produced tumbling wickets and excellent contests. By all accounts Dunedin saw one of the most gripping Tests in recent times. The emergence of another 19-year-old, Umar Akmal, is very exciting (scores of 46, 52, 129, 75 in his first four Test innings). He is currently 48 not out with Pakistan going into the last day of the deciding Test 99 runs ahead with six wickets in hand.
These are mere extracts from a riveting period of Test cricket. And the first match of a series between two evenly-matched sides, South Africa and England, begins on Wednesday, as does the third Test of Australia-West Indies. Will I ever get any sleep?
Benj Moorehead is editorial assistant of The Wisden Cricketer
Posted in International, New Zealand, Pakistan, Test cricket, The media, west indies | 3 Comments »