December 15th, 2009 by
John Stern
in
Test cricket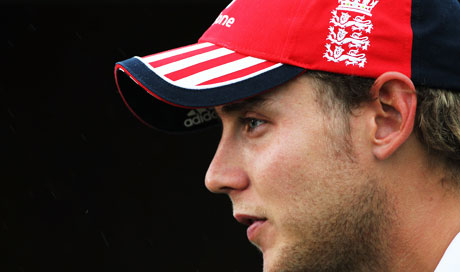 Much as I respect the decisions of Stuart Broad and James Anderson to ignore the 2010 IPL, I feel uncomfortable about it.
Broad is the only one that matters here. Anderson is not a realistic IPL prospect anyway but Broad would be a serious draw.
I'm an England supporter so Broad's fitness and availability for England is important to me. As Mike Atherton said in today's Times, he has shown admirable maturity in playing the long game rather than chasing a quick buck.
He shunned the IPL in 2009, stayed fit and won the Ashes with one spell in the final Test. Proof of pudding etc. His decision buys him a lot of goodwill with the British public, which will not be easily forgotten. He has inherited his dad's competitive spirit and hot-headedness but he has a self-awareness and an intelligence that one does not so much associate with BC Broad.
There are two things I wonder, though. Does Broad's decision say anything about the status of the IPL? He is not alone in putting his country first. High-profile Australians, like Ricky Ponting and Michael Clarke, have done the same.
Is there a sense in England and Australia that the IPL is an old man's game, something one can get involved with at the end of a career as Warne, Gilchrist and McGrath have done?
In the past, Lalit Modi has feigned disinterest about the availability of England players but surely the IPL is more than a domestic event. It should be one of cricket's 'majors', a globally renowned and watched event that captivates fans everywhere.
What irks me is that Broad is being faced with this choice – England or IPL. England's relationship with the IPL (and by extension the Champions League) is an embarrassment at the moment. Flintoff and KP went for big bucks in 2009 – so what? Neither of them justified their price tag with their performances. We all got very excited about Graham Napier – he barely got a game.
I'm still a Test match purist but I want to love the IPL too and I want to see England's finest playing and performing. I'm just not convinced that the ECB want this because it conflicts with their commercial deals and their bloated schedule. I still get the impression that they're swimming against the tide and, to be blunt, I don't see David Collier and Giles Clarke having much in common with Michael Phelps or Mark Spitz.
John Stern is editor of The Wisden Cricketer
You can find him on Twitter @wisdencric_john
Posted in Test cricket | 2 Comments »