December 16th, 2009 by
Lawrence Booth
in
England
,
South Africa
,
Test cricket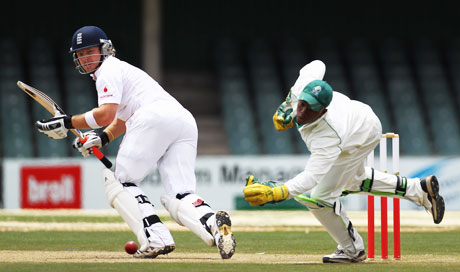 Let's hear it for Ian Bell. And no sniggering at the back. Because amid all the agonising over England's failure to go for broke and pick Luke Wright for today's first Test at Centurion, Bell has quietly been given a reprieve.
That may sound like an odd phrase to use about a player who batted at No 3 in England's most recent Test, but the return of Kevin Pietersen and the certainty that Jonathan Trott would be going nowhere other than up two places after his Oval heroics at No 5 meant Bell was, in effect, fighting for his place all over again. And he's fallen on his feet: after all, No 6 has produced four of his eight Test hundreds.
Now for the hard part. No England batsman divides opinion like Bell. If some observers have accused Alastair Cook of potentially sleep-walking his way to the Test captaincy in Bangladesh, Bell stands charged with somnambulism in far too many of his 49 Test appearances before this one. So much talent, so little presence: the argument infuriates partly because it is so familiar.
Much of this is Bell's own doing. There have been too many weak dismissals, too many starts squandered, and too much preoccupation with appearance: a puffed-up chest works when you possess the bulk and mindset of Matthew Hayden; otherwise, expect to be compared to on-screen geeks.
Equally, there is the perception, supported by statistics, that Bell scores his runs only after others have done so. As every Bell-detractor knows, all his Test centuries have come after someone else has beaten him to three figures. The comparison with Paul Collingwood – less naturally gifted, but a professional maker of tough runs – has always felt instructive. Why, we cry, can't Bell get stuck in?
But there is also a sense in which he has to work harder for his spurs. The 72 he made at The Oval in August after assuming the troubled No 3 slot set England up and showed real character, but it was overshadowed by Stuart Broad and Trott. One scribe even called the innings a typical Bell-like failure, a job half-done.
That, of course, was drivel, but the jibes go with the territory. Only Bell would have had the three centuries he made against Pakistan in 2006 used in evidence against him (they all came from the safety of No 6, you see). Only Bell would have been laughed at for getting out for 199 in a Lord's Test. And, for some reason, only Bell has received a disproportionate amount of flak for England's 51 all out horror show in Jamaica (he got out, cutting the spinner no less, just before tea).
This is not to say he has deserved none of the brickbats. But you can be sure that if Bell makes runs at Centurion from No 6 – a slot in which he averages 49 (how dare he!) – then the old arguments about easy runs will be trotted out.
Having always had a soft spot for Bell and his fragile aestheticism, I'm hoping he makes a shedload and establishes himself in a position that plays to his strength and that of the team – nothing wrong with that, surely. But if he fails, God help him.
Lawrence Booth writes on cricket for the Daily Mail, and you can sign up for his weekly newsletter the Top Spin here. His fourth book, What Are The Butchers For? And Other Splendid Cricket Quotations, is out now, published by A&C Black
Posted in England, South Africa, Test cricket | 3 Comments »