December 17th, 2009 by
Alan Tyers
in
Alan Tyers
,
England
,
International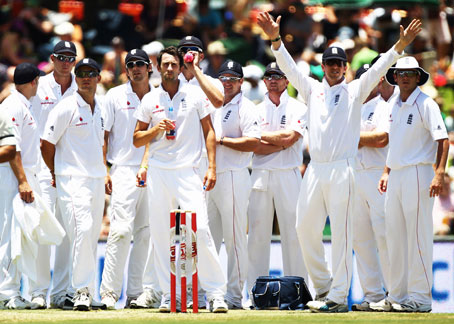 Obviously I was delighted to get my place back in the team and it was really nice to be back with all the lads working on important areas of the game such as not getting shouted at by Mr Goochie; avoiding being shot to death on the way to the breakfast buffet or getting beaten up by Graeme Smith at the waffle station; and keeping it there or thereabouts on the Twitter.
There was some harsh words said after the first day about the use of the review system but the way I look at it, it's like being in the hair salon and thinking "Cor, I wouldn't mind a bit of that mousse over there" but not putting your hand up and instead just answering the questions about where you're going on your summer holidays this year and ending up dying wondering, not literally obviously, but like in a sporting/hair salon sense.
Ian Bell firmly believes that it's better to cheat death by asking for hair mousse than leave with an uninspiring wet-look gel and a crushing sense of disappointment and that hot prickly feeling on the back of your neck like when, picking a hypothetical example totally at random, you wet yourself dressed as a shepherd during the school nativity play or you had to face Shane Warne on a raging bunsen at Adelaide.
One thing I've learned from Ashley Giles at Warwickshire is that, at the end of the day, you've got to put your hand up and ask some questions; and that applies every bit as much to cricket as it does to hair mousse.
So for that reason, I decided that any time I got a chance to ask Mr Aleem Dar or Mr Steve Davis a question I was going to take the opportunity with both hands, or at least the hand that I wasn't already using to put my hand up. For example, I asked:
"Mr Dar, Mr Dar, is that leg before wickets because I definitely don't think he hit it? Can you look at it again on the review thingy or Bebo or Youtube or iPhone or something?"
"No, Belly, you idiot," said Mr Dar. "Of course he's not leg before. And the reason he didn't hit it is because we're in the middle of the drinks break. Can you not see Mr Kallis has put his bat down and is enjoying an isotonic recovery drink and handful of mince pies over by the boundary? Do try to keep up."
Ian Bell is a massive fan of technology but in this instance I think they should have just applied some common sense, and I said as much to Mr Dar but he just smiled and says "just you wait until you are in bat" and to my mind that sounded like a threat and I've asked to have it reviewed on CCTV and I told a policeman but I don't suppose nothing will happen.
By Alan Tyers
Posted in Alan Tyers, England, International | No Comments »