December 17th, 2009 by
John Stern
in
England
,
South Africa
,
Test cricket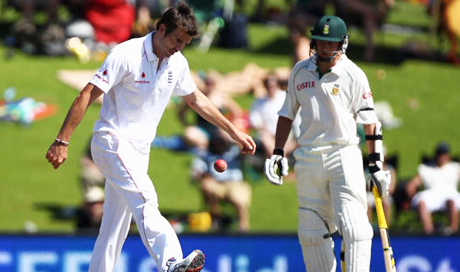 "Hit out or get out," Nasser Hussain urged South Africa's batsmen around mid-afternoon. I chuckled. He was right, of course, because the Test was drifting horribly. But I thought it was ironic coming from gritty, grinding Nass, who is rightly celebrated as the man who stopped England being a laughing stock.
It's typical of South Africa to be cautious, of course, but I sense they are not as confident as they have been in the recent past. They haven't played a Test since March, a series they lost at home, and with Dale Steyn injured and Morne Morkel out of form they are more vulnerable than we might have imagined.
And their lack of urgency indicates that their mindset is more conservative than normal. They're at home, at a venue they've only lost once at in a Test (in a fixed match), and yet they have no obvious desire to try to take the game away from England.
Which makes England's decision to put them in all the more disappointing. Inserting the opposition away from home is such a false economy. Green grass on a southern hemisphere pitch the day before a Test does not equate to a New Road greentop.
Against a Steyn-free attack and with a six-batsmen line-up, the confident thing to do would be bat first. South Africa's 418 is not a disaster but it's still a very healthy total, given that the ball's turning already.
In the past, England have often been guilty of over-estimating their own capabilities but I sense now that the healthy pragmatism which infuses Strauss' and Flower's minds actually leads to a down-playing of the team's collective ability. England have been so atrocious at the start of series, it's understandable that the captain and coach continue to act cautiously. But they have misjudged the situation here.
But opportunities have to be recognised and then seized. My concern is that, in a Test that resembles the opening sparring of a boxing match, England have missed a great one.
John Stern is editor of The Wisden Cricketer
You can find him on Twitter @wisdencric_john
Posted in England, South Africa, Test cricket | 1 Comment »