December 18th, 2009 by
Benj Moorehead
in
England
,
South Africa
,
Test cricket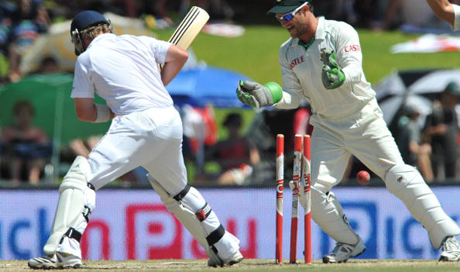 So you have to spin the ball to be a decent spinner, do you? Well, yes, but only occasionally if you go by Paul Harris's success. Most spinners use the one that goes straight on as a surprise. If it works inversely, as in the case of Harris and as England discovered today, it is mighty effective.
Harris, who is among the top 10-ranked Test bowlers, isn't easy to admire. He shuffles up to the wicket and then round comes the arm. It's an action wholly lacking in mystery. Everyone wants a spinner to have a bit of mystery.
Yet his bowling produces wickets. The monotonous action, it turns out, produces a monotonous line and length. He rarely goes for many runs and batsman often get caught when they go after him as Trott and Prior did today.
As a batsman it must be difficult to convince yourself it's not going to turn, at least not much, when Harris is bowling. The release implies it will. Harris's bowling arm comes down from an angle which goes against the way he spins, or feigns to spin, the ball.
Ian Bell fell into this trap. A delivery pitched on a perfect line and length turned not a bit.
Very well then, England's batsman might have thought. He doesn't spin it, we'll play him like that from now on.
Then came the mystery ball. It pitched very close to the one that got Bell. Collingwood played. It turned. It turned! Outside edge to Kallis at slip.
That single delivery means England's batsman cannot be sure of what will happen when a Harris delivery lands. It's almost certain not to turn. Then again it just might.
It's all a bit odd, and hardly pretty. But 75 wickets in 25 Tests is no freak. And, as we've seen today, he gets out decent batsman – 64% of his Test wickets come from the top six batting positions.
Benj Moorehead is editorial assistant of The Wisden Cricketer
You can find him on Twitter @wisdencric_benj
Posted in England, South Africa, Test cricket |