October 24th, 2008 by
Alan Tyers
in
Alan Tyers
,
England
,
Stanford Twenty20
and tagged
Alan Tyers
,
ian bell
,
Stanford Twenty20
,
twc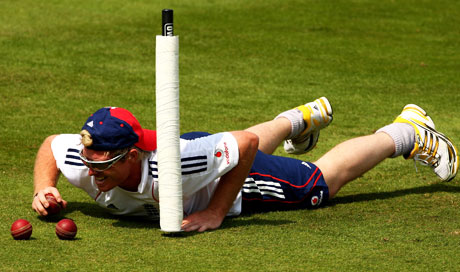 In the first of a new series of exclusive extracts from England players' diaries, Alan Tyers takes a peak into the crazy world of Ian Bell.
I was well pleased when they asked me to do this diary which is like an old fashioned word for what you put on your Facebook Wall but you can text it in and don't even have to speak to the riter on the phone.
Unfortunately, I don't think I will have many cool bits of insider information or titbits about the England team as none of them are speaking to me. I am in disgrace even worse than Fred was after Mr Fletcher caught him drinking Malibu with Snapey in the Team Psychiatrist And Motivationator Specialist's Office when he should of been out on the park sticking it up Shivnarine Chanderpaul's nose with the second new ball.
It was the root of evil that done it. Not Shane Warne, I mean. Money though. All the boys have been well excited about the Stanford match although obviously we are looking upon it as just a chance to gain experience in this new format of the game and represent our country to the best of our ability. (Note to editur – Hi editur. Is this the sort of thing you wanted right because you said put some jokes in if possible?????)
So what happened is I already spent some of the money – on a really good new haircut with extra gel and also on two new games for the Nintendo Wii – even though we haven't won the money yet. KP got really mad with me, I never seen him so furious. Even more angry than when Jonny Wilkinson was voted 'Most Marketable Non-Football Sportsman' in that magazine article.
KP said I should never of spent the money if I didn't have it and it was exactly this sort of irresponsibility and overconfidence that got us into the Credit Crisis in the first place. He storms out and I'm thinking: alright so I dropped my wallet on Broad Street in Birmingham a few weeks ago and I had to cancel my cards and everything and it was a right pain and that but I wouldn't necessarily say it was a crisis as such. And how does he even know about Broad Street?
I was just sat there trying to work that out when he comes back in and he says that he's been talking to Straussy because Straussy knows these posh lads that work in a bank, or at least they used to apparently. My Aunt Vicky used to work in a bank, sometimes we would go and see her on the way home from school. Or university. I wouldn't mind working in a bank: smart uniform, plus sitting behind that glass screen, you could pretend you were on telly. Or a fish. I like fish.
Anyway Straussy says he has worked out this plan that he's going to hold all the younger players' money in a trust fund until we are old enough to spend it ourselves sensibly.
I says I don't care what they do with it as long as they don't repossesses my Nintendo Wii or try and take my hair. We better win this game now.
The pathological England Team diary stealer is Alan Tyers
Posted in Alan Tyers, England, Stanford Twenty20 |