November 26th, 2008 by
Rob Smyth
in
England in India
,
Test cricket
and tagged
cricket
,
india
,
rob smyth
,
the wisden cricketer
,
virender sehwag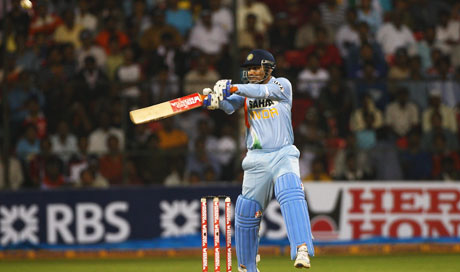 Virender Sehwag turned 30 last month. For most cricketers that involves a reappraisal of where they are heading and a modification of their game to begin the slow wind-down to retirement. But Sehwag is not like most cricketers. External factors – age, pitch conditions, quality of bowling, match situation, the alignment of the planets – have never penetrated the enormous bubble inside which he bats, and nor will they now: against first Australia and now England he has simply carried on as he did in his twenties.
Despite that, Sehwag remains relatively unappreciated. In a culture where sporting greatness is seemingly afforded any Tom, Dick or KP, many have declined to honour Sehwag thus. There are many possible reasons for this – his remarkably inconsistent nature, his contempt for the textbook, the shadow cast by India's legendary middle order, maybe even his working-class background – but they are all irrelevant.
Sehwag is a gloriously unique sportsman, who has been responsible for some of the most staggering feats in cricket history. Like his spiritual twin Adam Gilchrist, he transcends statistics, yet they are still enormously impressive. He averages 51.96 in Tests, mostly opening the batting, and allies that to a strike-rate that is comfortably the highest of any opener to have scored 500 Test runs. Sir Donald Bradman and Brian Lara are the only other men to have scored two Test triple-hundreds. Sehwag brought up his and India's first, against Pakistan at Multan, with a six. He has scored Test centuries against every country save Zimbabwe and Bangladesh, and in every country except Zimbabwe, Bangladesh and New Zealand. In one-day internationals his strike rate is 99. He's an all-track bully.
The weakest songs on his greatest hits album are stronger than the strongest on those of 99 per cent of batsmen. This year alone he has played two innings of an audacity that is difficult to comprehend even months after the event. Against South Africa he hammered Test cricket's fastest triple century, from just 278 balls (think about that: he scored 300 from 278 balls. In a TEST match). And in a low-scoring Test at Galle, against a rampant Ajantha Mendis and Muttiah Muralitharan, he blitzed India to victory with 201 not out in a total of 329.
These are mind-boggling achievements, yet there is an inclination to chuckle and say, 'Oh, that's just Sehwag', like a parent laughing at their child's eccentricities. Sehwag has been compared to Sachin Tendulkar, with whom he shares a bewitching little mastery, but a more relevant reference point is surely Lara. Like Lara, Sehwag scores monstrous hundreds at breakneck speed; like Lara, his form fluctuates wildly, surely a mark of the truest genius; like Lara, when the mood takes him there is absolutely nothing a bowler can do to avoid being pummeled.
In the eyes of many, those qualities elevate Lara above the other great batsmen of his generation – Tendulkar, Rahul Dravid, Ricky Ponting and Steve Waugh – yet the fact that Sehwag has extended the Lara template ever so slightly seems to count against him, as if he has crossed the line between greatness and frivolousness. Quite the opposite. It is said of many sportsmen, but with Virender Sehwag it feels safe to opine that, truly, we will never see his like again. He's not just great. He's one of the greatest.
Rob Smyth is a freelance journalist
Posted in England in India, Test cricket |