August 20th, 2009 by
Daniel Brigham
in
England
,
The Ashes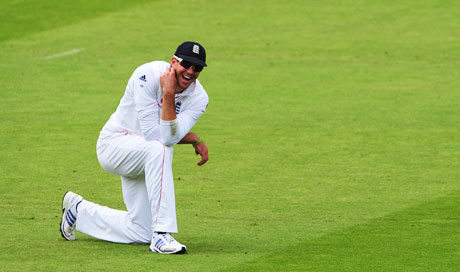 After Kevin Pietersen got out to a rash shot when on 69 in the first innings of the Ashes at Cardiff, former England captain Tony Greig said he should be dropped if he played like that again. Many agreed. After all, he'd done the same thing before: when on 97 against West Indies in Jamaica and 94 against South Africa at Edgbaston. People said he was detrimental to England for these horrible, selfish shots. Well, how England could have done with Pietersen getting out in the 60s or 90s to a stupid shot at Headingley and, quite possibly, in the next five days at Lord's.
The debacle of England's Nos. 3, 4 and 5 in the third and fourth Tests shows just how mightily, but depressingly, vital KP is to their batting. Without him the middle-order is the Sex Pistols minus Johnny Rotten: no star, no leader, no heartbeat and utterly unable to perform as a unit.
Ravi Bopara, who shows I know nothing after I tipped him as a perfect No. 3, will be back but not so high up the order. He's currently playing across the line too much to be stable enough for No. 3.
Ian Bell looks so frightened of Mitchell Johnson's embarrassing, meek and pouty Derek Zoolander stare that he's single-handedly played the bowler into form. Replacing Bopara at three with Bell is like emptying your bin of rubbish and filling it with garbage.
If it wasn't for Paul Collingwood England would have lost the series by now. Yet he seems to play well only when batting with Kevin Pietersen – their tempos seem to be in such perfect synchronicity that a pairing on Strictly Come Dancing appears inevitable. In the four Tests that Collingwood has played without Pietersen, his highest score is 36; that he hasn't been invited to bat at No. 3 as the senior batsman speaks volumes of the management's confidence in his technique.
The argument that the England batsmen don't perform when Pietersen is in the side because they depend too much on him and would flourish without him doesn't stack up after the evidence of the last two Tests. Simply, Pietersen is England's only stand-out middle-order batsman. Bopara should come good one day and Jonathan Trott could well have KP's South African self-belief to back up his talent, but, for now, Pietersen getting out to stupid shots is as good as it gets.
Daniel Brigham is assistant editor of The Wisden Cricketer