January 7th, 2009 by
Sam Collins
in
England
,
Test cricket
and tagged
cricket
,
England
,
pietersen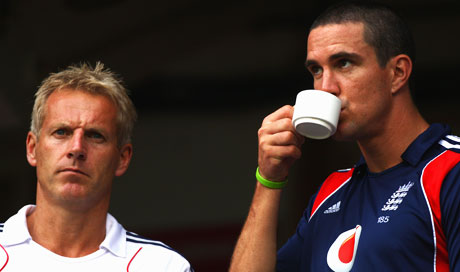 Is there a cricketing country more adept at fashioning a crisis than England?
This morning that seems impossible, as confusion reigns over the futures of both Kevin Pietersen and Peter Moores.
Resignations, sackings, dressing room unrest: the full story is as yet unclear, but at the start of an Ashes year the ECB now finds itself in turmoil, all with a tour to the West Indies due to start in two weeks time.
So who do you think is to blame?
Is it Pietersen for driving a tank at a man already on the edge of a cliff, Moores for his mediocre record as coach or the ECB for allowing this mess to drag on for the best part of a week?
And what of the future for Pietersen? Is his position now untenable, and would he be justified in chasing the gold of the IPL?
Have your say below…
Posted in England, Test cricket | 11 Comments »