January 8th, 2009 by
John Stern
in
England
and tagged
England
,
hugh morris
,
kevin pietersen
,
peter moores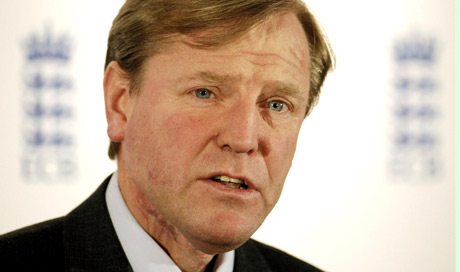 Who said this and about whom?
"There was a disconnect between X and the whole of the management of ECB – that won't happen again."
Answer: Giles Clarke, ECB chairman, talking exclusively to TWC in late 2007 about the demise of Duncan Fletcher. (Clarke became ECB chairman after Fletcher had left his post)
"That won't happen again," he said.
Well, it has, and then some. The point of the Schofield Report and the appointment of Hugh Morris's position as MD of England Cricket was to provide credible leadership for all cricket-related matters. The problem with Fletcher was, according to Clarke, that he refused to report to Tim Lamb, the then chief executive. This was a problem presumably inherited by Lamb's successor, David Collier, despite being, according to Clarke "a proper chief executive".
So the ECB introduced another layer of management and filled it with a former player and good egg that players and coaches would all respect, right?
I know Morris personally and he's a top man, no question. And I don't just mean he's a nice bloke. He's tough (don't forget he has survived throat cancer in the recent past), fair-minded and intelligent with bags of integrity. And he cares as deeply as anyone about the health of English cricket.
But you have to wonder what the heck has been going on when the rift between Moores and Vaughan/Pietersen has been an open secret almost since the day the coach was appointed.
Yet the impression is that these problems have only been addressed once the rift was made public. It looks like a head-in-the-sand job that has caused way more rancour and resentment than if the issue had been met head on (privately) much earlier.
And to conclude this process by canvassing opinion from players and coaching staff about the dressing room seems to put all concerned in an utterly invidious position.
I'm not suggesting Morris needs to fall on his sword here but we're still none the wiser about who is actually in charge here.
And as for that moment when KP meets up with his team-mates again, some of whom have clearly helped engineer his departure: fly on the wall anyone?
John Stern is editor of The Wisden Cricketer
Posted in England | 2 Comments »