January 8th, 2009 by
Jrod
in
England
,
The Ashes
and tagged
Australia
,
England
,
Jrod
,
The Ashes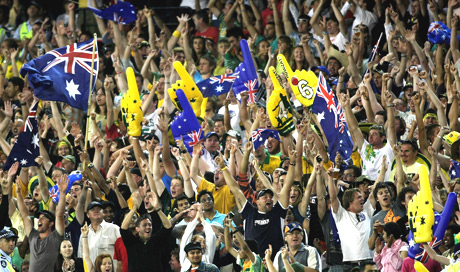 Thank you England.
It hasn't been a great time for Australian cricket fans.
Old dudes can't be culled. Spinners can't be found.
Captains can't work out fields or over rates.
Prolific batsmen face private credit crunches and 20 wickets a match is a pipe dream.
And the bloody South Africans beat us at home. We should be suicidal, and we were.
Now England has opened our eyes to the beautiful nature of the world, the lightness and puppy dogs.
KP was England's white knight. The man was going to take them to a promise land of Ashes glory and unheard of gloating and celebrations.
MBEs were drafted, streamers were ordered, and English fans had actual confidence in the state of their team.
After one dead rubber victory he was going to win the ashes, cure cancer and sing Hallelujah on a talent show.
Now he has quit, after losing 20 million dollars, a one day series and a test series.
He said it's me or him, and they said it's both of you.
And this brings me the joy that one can only hope for when their first child is born, or when they see the Natalie Portman strip tease in Closer.
I can handle Australia being useless if England are a mess.
Although I probably can't handle losing to England, but I didn't think I could handle losing to South Africa, but the scars on my wrists have been healing up nicely.
So thank you England, for curing Australian fans of their misery in our darkest hour, we can always count on you.
Jrod is an Australian cricket blogger, his site Cricketwithballs.net won last July's Best of Blogs in TWC
Posted in England, The Ashes | 4 Comments »