January 14th, 2009 by
Sam Collins
in
Test cricket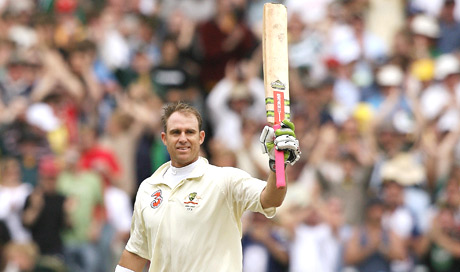 FOR
King Cricket
Roastbif blogger, and head of the anti-Hayden court
Matthew Hayden was not a bad batsman. What we take issue with is the assertion that he's one of the greats of the game.
Many people have paid tribute to Hayden in recent days and those who've branded him an all-time great have pointed to his average, but that statistic obscures as much as it reveals. The fact that his average is over 50 blinds people to the context.
Matthew Hayden played his career in an era where pitches were flat, Australia were dominant and fast bowlers non-existent. What Hayden did was devise a batting method whereby he could exploit these factors – and for that he deserves great credit.
But Hayden was a child of his times. As Wasim and Waqar, Curtly Ambrose, Courtney Walsh and Allan Donald departed the scene, so Hayden rose. On predictable pitches made to last five days and against fast-medium opening bowlers, Hayden stood a yard out of his crease and drove.
It was a brilliantly simple tactic in a world where pitches and the fixture list discouraged fast bowling. The lbw was virtually removed from the equation and back-foot play was at best an afterthought. In another era he'd have lost his teeth.
You can add to this the fact that Hayden's wicket was never crucial. Ponting was next in and Gilchrist batted as low as seven. Even if Australia only got 200, they could still fancy their chances with McGrath and Warne in their attack.
Ruthless exploitation of weaknesses in opponents is unquestionably a strength. Hayden made sure that he profited from these weaknesses more than anyone. However, that also means that his record is, to a great degree, built on others' failings.
AGAINST
Jrod
Feisty convict, blogger and Haydos admirer
What would Christ do?
That is what Matthew Hayden, the very epitome of thuggery with a bat, often asked himself.
The answer was make 30 Test hundreds, average over 50, and annoy as many people in the cricket world as possible.
I have never met this Christ fellow, but maybe that's what he told Hayden to do.
"I need you to sacrifice your good name for the good of mankind. Smite the South Africans, they brought us Apartheid. Reign down destruction on Zimbabwe, they kill farmers. Punish the English as they gave us Peter Andre, again, and heaps of other dodgy stuff. Give the West Indians some serious wrath for that 'hot, hot, hot' song. Admonish the Indians for Lalit Modi. Thou shalt follow my words to the letter, strike down upon thee with great vengeance and furious anger."
You don't know that didn't happen.
Look at the teams he went easy on – Sri Lanka, New Zealand, and Bangladesh – nice places, with people who have done little to annoy the rest of us.
Perhaps the reason pitches were flatter, and the bowlers were more benign when Hayden played was because Jesus made it so. He sent forth his Christian warrior on a mission, and that warrior obeyed with maximum brimstone and fire.
We will never know if Hayden would have prospered in any other generation, all we know is he did in this one, and Jesus seemed to have something to do with it.
Posted in Test cricket | 41 Comments »