January 20th, 2009 by
Sam Collins
in
Miscellaneous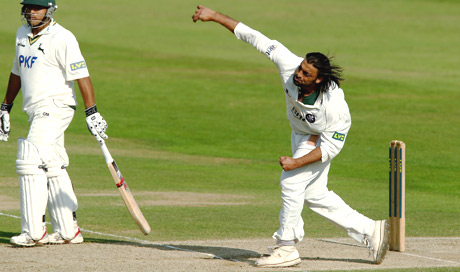 Allan Donald, Courtney Walsh, Shoaib Akhtar*. A who's who of fast bowling, a load of Test wickets and all current or former customers of independent bowling boot maker Ian Mason.
As part of TWC's equipment supplement, (out in the March edition on February 13), I travelled to Birmingham to talk to Mason about what is a dying art amid excessive brand exposure and big-money sponsorship deals.
Having started out making kickers for hockey goalkeepers, Mason – a retired engineer – has spent the best part of 30 years perfecting what he is keen to stress remains a hobby more than a business.
Seeing as each pair of boots requires around 20 hours of his time, his obvious love for the craft is as necessary as it is refreshing.
The current boot has adapted over time to incorporate the feedback of his customers, who range from club cricketers to the highest level. Accordingly they appear lightweight and durable, with top-quality shock absorption to give the bowler every chance of staying off the treatment table, while the design remains flexible to the individual quirks that set fast bowlers aside as cricket's goalkeepers – a bit madder than the rest.
The fitting process is not overly complicated, with 'lasts' created from simple measurement of the feet on which the boots are made. Kangaroo leather is used on the 'upper' part of the boot, while the soles are made of tanflex leather – almost entirely waterproof and very hard-wearing.
Mason genuinely believes his boots to be the best available, "an ever onward spiral of improvement", but cannot see anyone taking over his business from him, and bemoans a dwindling customer base in the face of serious commercial competition from the bigger brands. Cost is an issue too, with a pair of Ian Mason bowling boots likely to set you back around £450 all-in.
Still, as my mother said – you should never scrimp when it comes to your feet.
Sam Collins (angry, quickish bowler with dodgy size 12s) is reviewing a pair of Ian Mason's boots throughout the 2009 season. Keep an eye on the equipment section of the website to see if the boots live up to Mason's promise.
Picture: A pair of Ian Mason's boots take the strain as Shoaib Akhtar bowls for Surrey at the end of the 2008 season.
*Other customers of Ian Mason include: Joel Garner, Colin Croft, Ian Bishop, Eldine Baptiste, Shaun Pollock, Waqar Younis, Andrew Caddick, Steve Harmison, Simon Jones, Shoaib Akhtar, Devon Malcolm, Makhaya Ntini among many others.
Posted in Miscellaneous | No Comments »