January 23rd, 2009 by
TWC
in
Miscellaneous
,
My favourite cricketer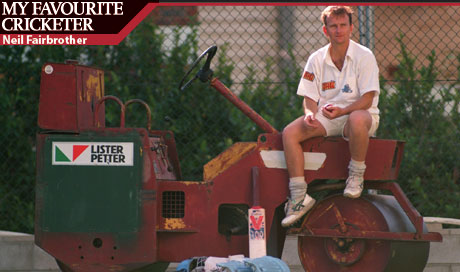 Mark Shuttleworth is the first winner of our My Favourite Cricketer competition for his entry on Neil Fairbother
Cricket bit me when a friend of a friend gave me the Observer's Book of Cricket. I was about 10 years old and devoured every page. The table of Top Test runscorers included Neil Harvey, a name that stuck in my mind.
Fast forward a few years and the Playboy, sorry, Playfair annual had grabbed my attention. Scanning the Lancashire listings I stumbled across a young player. Neil Harvey Fairbrother. I could feel the pull. LHB; LM; One game; did not bat. But I felt I knew him already.
LHB. Those three letters placed him perfectly in a side already containing lefties Fowler, Lloyd (D) and Lloyd (CH), Abrahams and Jeffries. I followed his progress and felt for him when stranded on 94 by a declaration in his maiden innings. And with three balls of the over remaining.
Soon the centuries began to flow and Test selection was talked about. How fitting that he should receive his call up for a Test on his home ground; how cruel that he should score a duck, called upon to bat when a nightwatchman was needed. I still haven't forgiven Mike Gatting. And nor have many others.
1990 was his annus mirabilis. A batting average of 80 and that 366 at the Oval – one day containing a century in each session. The abiding memory came on May 30, as Lancashire played Surrey in the B&H Quarter Final. Surrey had a new speedster in their ranks, an unknown of the name Waqar Younis. Harvey cut, drove and strode down the wicket to him, scoring 61 not out from 29 balls. He did all this without a helmet, his quiff never moving out of shape. Breathtaking, it was.
I never did see Harv score a century. Does it matter? Probably not. I know that he gave his all to the cause, creating runs for the player at the other end. Ten Lord's finals and a World Cup one as well. Not bad for little 'un.
My last memory of him on the field was to see him carried off, having torn muscles at Lytham. It was sad to see him leave the field, but warming to hear the tales recounted over the rest of the day.
Few are born and given a name at birth that sets out their future path. So thank you Neil Harvey of Australia, for without you we would not have had our Neil Harvey Fairbrother.
Mark Shuttleworth wins a year's free subscription to The Wisden Cricketer
To enter submit no more than 600 words on your favourite cricketer to [email protected], subject line 'favourite'
Posted in Miscellaneous, My favourite cricketer | 4 Comments »