January 26th, 2009 by
Alex Bowden
in
west indies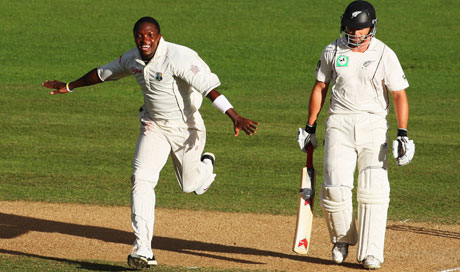 Nearly five years ago, we were sipping rum, munching on jerk chicken and watching the West Indies play England at Sabina Park. We weren't there, we were watching it on telly. We just like to join in with the food and booze when England are on tour.
The West Indies were bowling and the commentary was predictable: if only there were some fast bowlers, the Windies could be strong again. (Everyone who loves cricket wants a strong West Indian side, but who exactly is volunteering to be on the receiving end?)
Against this backdrop of doom and gloom and with every man and his commentating team harking back to the past, Fidel Edwards bowled two balls to Marcus Trescothick which would have done justice to any bowler.
Actually, the first ball wasn't bowled to Marcus Trescothick, it was very much bowled AT Marcus Trescothick. The batsman was very lucky that his head just happened to be an inch or so to one side, because he didn't have much time to move. When we remember it now, we hear the sound of a laser gun. That may or may not be accurate. It definitely went for four byes though.
The following ball was full and straight and resulted in a different sound - the sound of a cricket stump exiting the ground. And by ground, we mean stadium.
Fast bowling seems very straightforward at these moments. Just keeping doing that and you won't go far wrong, we thought.
Fidel Edwards recently took his 100th Test wicket, but he's hardly been an unfettered success. Not many West Indian fast bowlers have had the chance to take 100 wickets when they've been averaging close to 40 their entire career. That's roughly double the bowling average of Joel Garner, Malcolm Marshall, Curtly Ambrose et al.
However, the short-arsed, round-armed quick isn't 27 for another week or so and in his last Test took career best figures of 7-87. Since he toured England in 2007, he's averaged 30 and in the last 12 months he's averaged 24.
Hopefully things have changed, although we'll still be watching with a rum and some jerk chicken, because change isn't always for the better.
See King Cricket's regular blog at www.kingcricket.co.uk. King Cricket is a cult figure in the world of cricket blogs and was TWC's first Best-of-blogs winner in April 2008.
Posted in west indies | No Comments »