January 28th, 2009 by
Lawrence Booth
in
England
and tagged
cricket
,
England
,
kevin pietersen
,
lawrence booth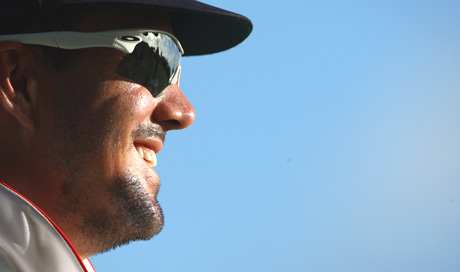 Sooner or later certain England fans are going to have to admit that their suspicion of Kevin Pietersen says more about them than it does about him. For some, his decision to leave South Africa will always be a copybook blot, proof of both his mercenary nature and his uncanny ability to find the 'I' in team. But it is time to move on from a decision he made as an ambitious, headstrong young man. And it is certainly time to give the old stereotypes about egocentricity a rest.
Pietersen's hundred in St Kitts in his first innings for an England XI since resigning the captaincy was a typically well-timed retort for those who thought he would struggle to settle back into the rank and file. Just as tellingly, early reports suggest he has declined to snip the end off team-mates' socks, turned his nose up at nailing their cricket bags to the dressing-room floor, and drawn the line at blowing raspberries during Andrew Strauss's team talks.
Whisper it, but he has been extremely professional. Since one of his first acts after losing the job was to talk on the phone to a trusted confidant about how to refocus on his batting under what he knew would be a blinding spotlight, this really shouldn't come as too much of a surprise. The man has never given himself less than the best chance of succeeding.
Sure, there was a momentary lapse when, referring to the new coaching structure after he made his hundred on Sunday, he mentioned that Strauss had got "what I wanted". And he took the opportunity to defend himself in his first press conference since his News of the World interview, as he was entitled to. But when the Book of Great Cricket Gaffes is finally put together, the "what I wanted" utterance will be well down the list.
So what? you might think. Bloke keeps mouth relatively shut: the rosette is in the post. But by the standards of modern cricket diplomacy – and taking into account Pietersen's occasional tendency towards gaucheness – this is a restrained effort. To cite an extreme example, Shane Warne spent years mocking John Buchanan in public and getting away with it. He also derided Adam Gilchrist in his 2001 autobiography, saying that leadership suited the Fonz-types better than Gilchrist's Richie Cunningham. But Warne survived because he was a one-off.
As the closest thing England have to a one-off, Pietersen could easily take the same attitude. Instead, he has got his head down. This doesn't mean he will stop giving honest answers to straightforward questions, but that has always been his way. In early 2004, before he had played for England, I interviewed him on an A tour of India, and came away impressed by his frankness. He said he felt some of his colleagues were trying too hard to catch the coach Rod Marsh's eye; he admitted he sometimes didn't treat bowlers with enough respect; and, moments after telling me he couldn't talk about his then delicate situation with Nottinghamshire, he explained why it was "most definitely a distraction".
The hidebound world of professional sport is healthier for shows of honesty. Especially when it is espoused by a player who sets himself such high standards – and more often than not meets them.
Lawrence Booth writes on cricket for the Guardian. His third book, Cricket, Lovely Cricket? An Addict's Guide to the World's Most Exasperating Game is out now published by Yellow Jersey
Posted in England | 1 Comment »