January 28th, 2009 by
Sam Collins
in
England
,
Test cricket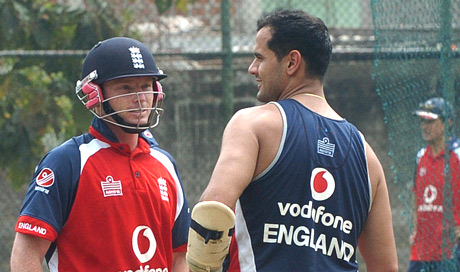 Andrew Strauss's cab finally leaves the rank next Wednesday, as England take on the West Indies in the first Test at Kingston. With KP seeming to have settled happily back into the masses, Strauss has other issues to deal with as he selects his first England team with the guidance of assistant-coach Andy Flower.
So should Strauss continue Pietersen's hard-line stance against an apparently out-of-shape Steve Harmison, or rely on Harmison's reputation to terrify a fragile West Indies top-order?
Which two will live happily-ever-after in the Ian Bell-Paul Collingwood-Owais Shah love triangle? And Monty or Graeme? Does it even matter?
It's taut and tense stuff in this week's TWC summit …

Edward Craig
Deputy editor of The Wisden Cricketer
Strauss, Cook, Shah, Pietersen, Bell, Flintoff, Prior, Swann, Broad, Anderson, Sidebottom
No Collingwood – end that outrage now. Take the pressure off Bell – stick it on Shah who might sink but it's worth a gamble. Enough Monty – I am so bored of that same ball. He's bowled it four billion times and once you've seen it once … And while Swann is no match-winner, he can fill the Ashley Giles role. Sidebottom sneaks in ahead of Harmison, which is probably wrong and unfair, but Harmison seems to be in bad-old Harmison mode – arrogant and uncaring.
Daniel Brigham
Assistant editor of The Wisden Cricketer
Strauss, Cook, Shah, KP, Bell, Prior, Flintoff, Broad, Harmison, Anderson, Panesar
Bell v Shah? Not in my world. It's Bell v Colly. Shah should be nailed on – not only does he score lots of runs but the scratch on his cornea makes him sound hard, which is what Bell has been searching for his entire career.
As flaky as Bell is, Colly still isn't good enough to play in a Test team that wants to win matches. Bell stays in by default. It's all pretty meek really.
Panesar deserves his place for taking wickets in the warm-up and it sounds like he's finally listened to everyone and thrown in some variations.
We'll have to trust Strauss's decision to pick the larger-than-life Cookie as vice-captain, but if Broad was guaranteed to start I'd give it to him. One day he'll be England captain, and he'll have the best hair of any England captain ever.
Benj Moorehead
Editorial assistant of The Wisden Cricketer
Cook, Shah, Strauss, Pietersen, Bell, Flintoff, Prior, Anderson, Harmison, Sidebottom, Panesar
Shah for Collingwood, who might otherwise score lots of runs against West Indies and convince everyone of he can do the same against Australia. Although it's probably too late – Collingwood is already a shoe-in this summer. Back to Shah – he should open to provide some oomph up front, something most good Test sides have. Solid Strauss at three sounds right, and Bell may come good with less pressure at five. Sidebottom – depending on fitness – must be tried again ASAP having been so effective for England until injury.
Lawrence Booth
Freelance journalist and author
Cook, Strauss, Bell, Pietersen, Collingwood, Flintoff, Prior, Broad, Anderson, Harmison, Panesar
Bell's rum punches this week are being sipped in last-chance saloon. Failure to convince in Jamaica should pave the way for Owais Shah. Ryan Sidebottom only misses out because it's hard to imagine he's match fit, and Monty Panesar squeezes out Graeme Swann on the basis that he appears to be learning under Mushtaq Ahmed.

Will Luke
Staff-writer at Cricinfo.com
Strauss, Cook, Bell, Pietersen, Shah, Flintoff, Prior, Swann, Broad, Anderson, Harmison
Is Ian Bell ever going to be dropped? Like a stunning girlfriend who knowingly cheats on you, it seems implausible that England will dump him and his glitzy, grinning little 40s and 50s. They just look too good; the potential for a lasting relationship is clearly there, if only he'd stop bloody flirting. Awful analogies and metaphors aside, he retains a place in my side at the expense of Collingwood, which admittedly does feel bitchy.
With only slight Middlesex bias, Shah deserves his place and a run in the side and, if and when Bell continues to slap to cover, Shah moves up to No.3 and Collingwood slots back in (angry and scorned after being dropped, prompting a run of brilliant Ashes scores). No Monty; Swann offers runs, the ability to catch without causing a nation heart palpitations and, at the moment at least, is no less a bowler.
Cook as vice-captain offers the image of two jolly-spoken chaps in charge trying to cajole the northern growl of Flintoff and Harmison.
Robin Martin-Jenkins
Sussex allrounder and TWC workie
Strauss, Cook, Shah, Pietersen, Bell, Flintoff, Prior, Broad, Sidebottom, Harmison, Panesar.
Sorry Jimmy A, I've given Harmy the nudge - I think the West Indies are scared of him. You'll probably play in the next Test anyway when Syd goes bust.
Sorry Colly, but Ian Bell is class. I've just renewed my Sky Sports subscription and I'd rather watch him make another pretty 40 than watch you graft your way to 100.
Monty - don't worry too much about the variations out here. Just bowl your usual stuff and they'll get bored and try and slog you out of the park, Stanford style. Let's hope they don't need 98 to win this time though.
JRod
Convict and blogger

Cook, Strauss, Shah, KP, Flintoff, Prior, Broad, Rashid, Swann, Harmison, Anderson
This squad is a revolutionary, 8 bowlers, 2 keepers and 6 batsmen. So I have picked accordingly. If England aren't picking their team seriously, why should I? You can take comedy selections too far though, next thing you know you're picking hilarious vice captains.
Posted in England, Test cricket | 4 Comments »