January 30th, 2009 by
TWC
in
Miscellaneous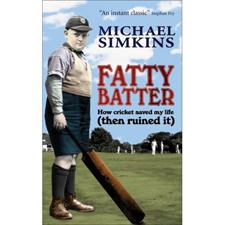 Every Friday we'll be picking a classic cricket book that has been reviewed in TWC to help you pass the weekend. Make your recommendations in the comments below.
What is it?
Fatty Batter – How Cricket Saved My Life (Then Ruined It) by Michael Simkins (Ebury Press)

What's it all about then?
The actor and Guardian columnist, Michael Simkins, hilariously and evocatively remembers how his early love of cricket turned into a lifelong obsession.
What did we give it?
5/5
What did we say?
This is so funny and shrewd, self-deprecating, evocative, observant and laugh-out-loud-true that any reader will ration its reading to make it last while desperately hoping the author may turn out to be a long-lost cousin.
In 1966, aged 10 and while consuming a chocolate bar with gourmand intensity, young Simkins happens to see Colin Milburn on television coming down the pavilion steps. "He barrels down, two at a time, his huge stomach wobbling up and down each tread like a giant blancmange, the flesh straining against the flimsy buttons of his cricket shirt. He seems an amalgam of every fat kid who has ever sat in the corner of a school changing room having gym shoes thrown at him by his classmates."
From this fatal attraction grows a fixation, initially fuelled by solitary games of Owzthat between players he names, (for sweet-related reasons) Callard and Bowser. With a plastic beach bat he learns the rudiments of the game in the stock room of his parents' sweet shop. The story of the acquisition of his first flannels could be by Dickens out of the Brothers Grimm. Cricket inspires him to get into grammar school and slow down on the creme eggs.
In real life, he also says, he is so bad at it it's funny. Except the chapters where he becomes a ball-by-ball commentator, passes for an MCC member, invents and organises a Sunday team and finds himself a plaything of Hardyesque gods, caught between the last day of the final Ashes Test of 2005 and a nice little earner in a TV drama with Martine McCutcheon, seem cumulatively to suggest he's rather better than he's letting on.
Gillian Reynolds, July 2007
What did they say?
'An instant classic' – Stephen Fry
'Once you've read this account of one man's love affair with cricket, you'll never want to read another ghosted autobiography again' – Michael Atherton
Someone must have hated it?
Overly fond of sweets, it wasn't long before Simkins became addicted to cricket. Unfortunately, he also quickly discovered that the real pleasure to be had in playing cricket depends on who you are playing with – and that many cricket teams are full of childish, dull, reactionary half-wits.
Misogyny plays its part too, as anyone restrained enough to make their way through the whole of this book without stabbing it with a fork will find out. If you like stories about sweaty, middle-aged men revelling in their own inadequacies, you'll love this. A truly suburban effort.
Tom Tomaszewski in the Independent, who gave it 2/5
Why not tell us what your favourite cricket book is, or which book you'd like to see in 'The weekend read' in the comments below …
Posted in Miscellaneous | 1 Comment »