June 3rd, 2009 by
Sam Collins
in
Women's World Cup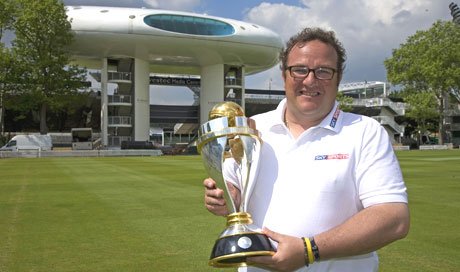 Mark Lane coached England's women to World Cup success in Australia earlier this year, and will play a key role in their attempts to add Twenty20 World Cup and Ashes victories this summer. Formerly a second-team player with Surrey and Hampshire and assistant to Andy Moles when he was in charge of Kenya, Lane took up his present position in April 2008.
Was it a deliberate shift for you to move into coaching in the women's game?
I've been in and around the women's set-up for the last 10 years and have been coaching Claire Taylor one on one for the last decade. The opportunity came around to take the main job full-time. I went to Australia last year and was involved in the Ashes win at Bowral, then we had the World Cup and the rest is history.
When I started coaching as an 18-year-old the differences between the two games intrigued me. It was a natural progression – I had coached the girls and boys at Surrey, and their academy, so I am a cricket coach not just a women's coach. I was at Surrey for seven years and was then fortunate, or unfortunate enough – depending on how you look at it – to go to Kenya for two years as assistant to Andy Moles, who is now the coach of New Zealand, when he was coaching their national team. But over the last 18 months I have been assigned this role and I've loved every minute of it.

How did you first come across Claire Taylor?
I was working at the indoor school down in Guildford back in 1996 and Claire came in and said, "I'm in and around the England set-up and I want to get better". So I took the challenge on and the product you see today is a combination of Claire's skill and my input, and a very good relationship – not just as a coach and a player but as friends. We speak regularly and we're always trying to challenge each other. Despite Claire already being the No.1 batter in the world I was adamant that I wanted to get her better and she wanted to get better herself. I know that she is now a better cricketer than she was this time last year.
Being No.1 in the world and being named as one of Wisden's five cricketers of the year are fantastic achievements, not just in a cricketing sense – it's a result of her dedication, fitness levels and nutritional levels. I was fortunate enough to be with Claire at the Wisden dinner to celebrate her award, which along with my partner being due to give birth tomorrow is one of my proudest days. We have had a lot of long days and some tears along the way. I'm proud of all the girls but Claire especially.

She has told TWC you turned her into a more effective cricketer.
Technique is important, but being an effective cricketer is even more important. I'd rather people got a gritty 20 not out to win a game of cricket than a couple of lovely boundaries and not much else. Leading up to the Twenty20 I have tried to challenge 'Tails' and the others with a lot of difficult scenarios - how are you going to score a certain amount of runs in this over? When are you going to bowl your slower ball? When are you going to bowl your yorker? It's about trying to be one step ahead of the game – rather than reacting to situations it's about trying to lead them.

Claire Taylor and Charlotte Edwards tend to get a lot of recognition in the media but who are the unsung heroes in the team?
Katherine Brunt, our opening bowler, is a really, really good cricketer and doesn't get the wickets she deserves. I was very pleased for Laura Marsh to have come out of the World Cup as top wicket taker. We didn't play her too much last year in South Africa and India – we were itching to get her on to the park but the rain meant we had to play an extra seamer. I kept saying to her that her time would come – it did and she grabbed it with both hands. Beth Morgan goes about her training very professionally and is on the MCC groundstaff – I have seen a massive improvement in her. They all add real energy to the team. The T20 will suit Sarah Taylor, our exciting opening batter/ wicketkeeper and I think you'll also see a different role for Charlotte Edwards – she'll bat in a slightly different position to 50-over cricket and hopefully in an explosive way.

Are you expecting to win the Twenty20?
We have had good preparation – playing double-headers against Brighton College and Sussex Under-17, and then Dulwich College and Surrey Under-17. It was 'cruel to be kind', but we performed our skills very well. To say we are favourites? I don't know. One good over, one bad over can change the game in Twenty20 but we have a group of very smart cricketers, who have been prepped very well, and are very fit and very strong. You always need a bit of luck in Twenty20. The margins between the women and the men's game are always going to be different. Because of the brutality in the male game they can whack 20 in an over no problem, whereas for the girls if we can get 12 in an over that is good too.
Who will be your main rivals?
New Zealand and Australia are always going to be dangerous. The Kiwis have some very strong batters – hopefully our skill will outstrip their brawn.
How big a boost will it be for the women playing alongside the men if they can get to the semi-finals?
We are looking forward to playing at Taunton, but the opportunity to get up to The Oval and Lord's prior to the men would be a fantastic opportunity to expose the girls to the world of cricket. I think those who watch women's cricket know it has improved, but it would be great to educate some of those people who just watch men's cricket.
How can you sustain the interest after this summer?
We are taking the girls out to Bangalore in the winter and then go to India in January and February. The intensity might not be the same as a summer with a Twenty20 World Cup and an Ashes, but the desire will always be there.
The Sky Sports ECB Coach Education Programme has over 22,500 coaching sessions planned for junior girls this summer, and helps provide a coach for each and every one of the 1500 ECB Focus Club girls teams.
Sam Collins is website editor of thewisdencricketer.com

Posted in Women's World Cup |