June 10th, 2009 by
Lawrence Booth
in
The Ashes
,
Twenty20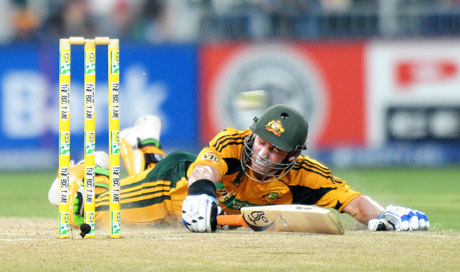 The fact that Australia are sitting in World Twenty20 dunces' corner with Bangladesh, the Netherlands and Scotland is an embarrassment they can no doubt take on the chin. But of the many areas of concern Ricky Ponting must address during his team's unexpected time off in the east Midlands, perhaps the most perplexing is the demise and fall of Mike Hussey.
Eighteen months ago Hussey was shaping up as the best since Bradman: his Test average after making 145 not out against India at Sydney was a startling 84. Together with Ricky Ponting and possibly Michael Clarke, he was to be one of Australia's Ashes bankers in a team denuded of several millionaires. But Hussey's career since then has followed one of life's golden rules: if something seems too good to be true, it's probably because it is. And so his next 31 Test knocks brought him one hundred, a grand total of 921 runs and the distinctly un-Don-like average of 30.
Watchers of domestic cricket couldn't quite believe it when Hussey was left to fester in the county game during Australia's last trip to England. Now they're equally aghast to see the sorry figure who was very lucky to make 28 not out off 15 balls against West Indies on Saturday, and rather less flattered to play back to a quicker delivery from Ajantha Mendis and depart for one off five against Sri Lanka on Monday. And that's before we get on to the fluffed catch at The Oval, which arguably betrayed a man wrestling with his confidence.
Ponting knows he needs Hussey to have a very good series later this summer in conditions he knows better than any of Australia's top seven after stints with Northamptonshire, Durham and Gloucestershire. But Ponting's contention after Monday's defeat that "everyone goes through ups and downs" was mere refuge in cliché. When he added "knowing Mike the way I do and how hard he works on his game he'll certainly give himself the opportunity to have a big Ashes campaign", you could barely move for caveats.
Hussey, who turned 34 last month and deserves sympathy for being the epitome of Australia's lost generation, may well punish England. But if he does, he will be bucking a trend. His last five Test series have brought averages of 22 (in the West Indies), 56 (in India), 35 (at home to New Zealand), 17 and 22 (home and away against South Africa). One good series in five means the tag of banker is no more.
Two bowlers in particular may be licking their lips. Stuart Broad has spent most of the year so far working on a successful round-the-wicket mode of attack to Shivnarine Chanderpaul, one of the few batsmen in the world who can match his fellow leftie Hussey's powers of concentrations. And Graeme Swann will relish the chance to show that left-handers don't have to be West Indian to struggle against him.
Hussey's obsession with the game – not for nothing is he known as Mr Cricket – was previously regarded as a benefit. Now you wonder whether the intensity bespeaks a lack of perspective that can prove crippling when things go wrong. What once looked like impressive industry at the crease now seems frantic. Asked about Hussey's recent struggles, Ponting claimed he "hadn't really thought too much about it". He'll have more time to reflect now.
Lawrence Booth writes on cricket for the Guardian
Posted in The Ashes, Twenty20 | 4 Comments »