October 28th, 2009 by
Lawrence Booth
in
County cricket
,
England
,
Test cricket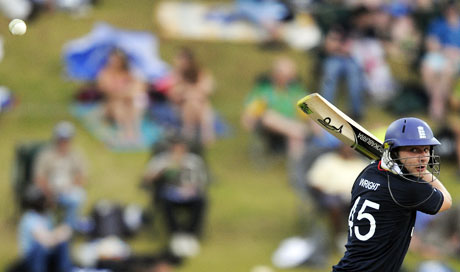 The Champions League, it seems, has caused quite a stir. Each country will derive its own lessons from a tournament which has opened up new possibilities for domestic cricket around the world, but for the English the mood has been one of frustration. When, we might ask, will we learn that we are saddled with a fixture-list that persuaded one county coach to tell me this week that "we're in the dark ages"?
The coach in question felt the standard of fast bowling in county cricket last summer was the worst he had ever seen. This isn't because fast bowlers don't know how to bowl any more. It's because they don't know how to bowl fast. Too much cricket, stupid.
While New South Wales, Trinidad & Tobago and the Cape Cobras arrived in India ready to rumble, Somerset and Sussex simply crumbled. The players say the experience was eye-opening – not only because they played in front of big crowds at large stadiums, but because the intensity of their opponents took them by surprise.
I was in Hove yesterday to interview Luke Wright. As a seam-bowling all-rounder, Wright is precisely the breed we should be worrying about. Without both his skills, England would be unlikely to pick him: if he drops much below 85mph, his international career could reach an abrupt halt.
But if it's hard enough rattling the speed gun on a regular basis in the county game, Wright also knows his development as a seamer – currently his weaker suit – depends on mastering the variations taken for granted by the top bowlers. And it's not easy practising your slower ball when you've just finished a day-nighter in Chelmsford and need to drive to Chesterfield the next day for a County Championship match.
The thoughts of the engaging Wright, whose career is still at the make-or-break stage, should be cut and pasted into an email to the England and Wales Cricket Board. "From the county cricket point of view, it is hard and you don't get the time to prepare as, say, people in Australia do, to work up to a game," he said. "You go from a four-day game and travel at night to a one-day game, and you try to differentiate between the formats. You find yourself practising the skills in the games themselves rather than having it nailed down ready to play. You almost use some of the games as practice."
One of these days the message is going to get through, but it may not be any time soon. And it has been that way for a while. In his newspaper column in 2003, Michael Vaughan pointed out in the aftermath of a crushing defeat to South Africa at Headingley: "My basic argument is simply that we are playing too much cricket, and that we should reduce the number of County Championship games being played each season. Essentially, I believe that less can be more when it comes to first-class cricket in England and our ability to produce a world-beating national team."
Nothing has changed, despite the Schofield Report which recommended less cricket following the disastrous 2006-07 winter. And the consequences were obvious not only in India, where the two county sides were made to look amateurish, but also during the recent Champions Trophy in South Africa.
This may sound strange given England's victories over Sri Lanka and the hosts, but Wright explained yesterday that their go-for-broke tactics with the bat had more than a hint of desperation about them. The 6-1 defeat to Australia at the end of the summer had been an object-lesson in English one-day mediocrity, itself the product of too much soft cricket at domestic level.
Now, said Wright, they decided it was better to be bowled out for 80 while trying to set 300 than scratch and scrape towards 220. The tactic worked gloriously against South Africa – and failed abysmally against New Zealand and Australia. One in three: a ratio that felt about right for a gameplan that flew in the face of a philosophy eked out in the mediocre world of the county game.
Keep going, England. Abandon will be the only way until the counties come to their senses. In other words, abandon will be the only way full stop. Expect some highs, plenty of lows and not a lot in between.
Lawrence Booth writes on cricket for the Daily Mail, and has started their new newsletter the Top Spin. His fourth book, What Are The Butchers For? And Other Splendid Cricket Quotations, is out now, published by A&C Black
Posted in County cricket, England, Test cricket | 5 Comments »