December 3rd, 2009 by
Sam Collins
in
England
,
Test cricket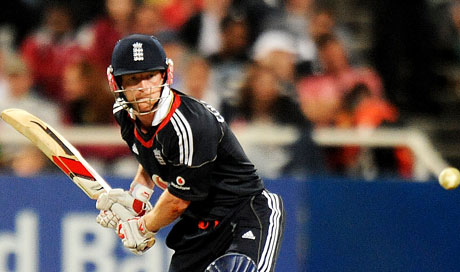 During my hairlarious encounter with Michael Vaughan on Tuesday, I asked whether, given England's apparent preference for five batsmen and Matt Prior, Jonathan Trott's good form had put Ian Bell and Paul Collingwood under pressure.
Vaughan looked dismissive. "I don't see much pressure on Collingwood with the way that he's playing. I see them going with Trott at three, KP four and Collingwood at five, with Ian Bell the man to miss out unless they go with six batters."

A fair response you would think – Collingwood's form in ODIs since the end of the Ashes has been excellent – he averages 52.4 from 12 matches.  But look at his Test form – in the last four Ashes Tests he scored 16, 54, 13, 0, 4, 24 and 1. Were a team for the first Test in South Africa (assuming Kevin Pietersen's fitness and the choice of five batsmen) to have been picked in the immediate aftermath of that Ashes victory then Collingwood would have been the likely candidate to give way. Ian Bell had top-scored in the first innings of the Oval Test, his 73 worth a great deal more in the context of the series. Yet Bell now finds himself on the outside because of Collingwood's outstanding one-day form.
But should that one-day form matter? Collingwood is a vastly different player in the shorter form – a middle-order aggressor who holds the English records for both appearances and fastest fifty – and key to England's prospects.  In Tests he has been solid, at times good, but never threatened to be great – his circumspection often the personifying England's more defeatist tendencies. The difference is shown clearly in his scoring-rates: 49 per 100 balls in the last four Ashes Tests and 80 over those last 12 ODIs. A scoring-rate of 49 does not make Collingwood a bad Test player, but it emphasises his split styles, and that his one-day form is of very little consequence when discerning his suitability for the Test side, especially in an era where quick scoring is key.
But there must be more to it than that. If one-day form were really a barometer then Eoin Morgan would have a case for retention, yet there will be little noise made when he returns home. The crux of the matter is that, despite his obvious limitations, Collingwood is a dependable bloke, an excellent fielder and a fighter, and England need only the slightest indication that he is in nick to have him in their side.
Sam Collins is website editor of thewisdencricketer.com
Posted in England, Test cricket | 4 Comments »