December 14th, 2009 by
Edward Craig
in
Miscellaneous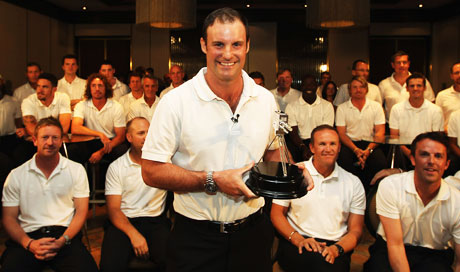 I never thought I'd feel so anti-England's men's team as I did watching Andrew Strauss pick up the team award at the BBC Sports Personality awards last night. Like the Ashes, it was an utter steal.
England suffered unedifying internal meltdown losing captain and coach at the start of the year. They went to the West Indies, were all out for 51 in Jamaica and lost a series they should have waltzed. They also got thumped 6-1 in a brutal Australian one-day series.
Okay, to pick themselves up and win the Ashes after the West Indies was an achievement – but that Ashes victory felt a fluke. England basically took a pummelling, had a couple of good sessions and walked away with the series. My abiding memory of the Ashes, for some reason, is Marcus North leaving the ball outside off stump as he ground England out of the game.
Yes there were some great English performances – and some over-rated ones – and Australia made their share of mistakes but it just didn't feel like a satisfying win: it was a 1985 Ashes victory to 2005′s 1981.
Contrast this to the dominance of the England Women: World Cup and World Twenty20 victories, compelling Wisden to pick a female player of the year, retaining the Ashes, the undisputed best team in the world (how often can English teams claim that?).
What more can one team do to get national recognition? Maybe this says a lot about our attitude towards women's sport in the UK.
The good news for cricket is there were few other sports in the running for this award – Brawn GP in Formula One perhaps – so the game is at the centre of this debate, which means something must be going right.
And on a final note, how painful is Sports Personality these days? When you find X Factor less toe-curling, do we really want cricket back on the BBC?
Edward Craig is deputy editor of The Wisden Cricketer
Posted in Miscellaneous | 7 Comments »