August 19th, 2009 by
John Stern
in
England
,
Test cricket
,
The Ashes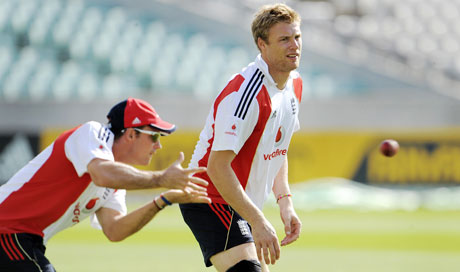 So after a fortnight of post-Headingley hair shirts and self-flagellation, how about a dose of pre-Test optimism?
The toss would seem to be all-important but if England do win it then surely they have a legitimate and plausible chance to set the game up and put Australia under pressure.
Australia have bowled first three times out of four in this series and on the two occasions when conditions were unequivocally good for batting, England made their attack look ordinary.
At Lord's they looked worse than that. History and local knowledge would indicate that conditions at The Oval will be good for batting.
In batting terms, England have been their own worst enemy, caught between the desire to attack and the need to impose themselves on their greatest rivals but seemingly unable to be equally positive and decisive in defence.
Indecision should not be a problem for England at The Oval. They know they have to win, they know they must be bold. In that context the selection of Jonathan Trott, a Pietersen clone in attitude if not technique, fits the bill.
My first inclination about the Oval Test was a draw. But, on reflection, that seems unlikely unless the weather intervenes. Neither side is that well-equipped for a war of attrition and England need to force the pace anyway.
Australia's bowling, especially if they were to risk Brett Lee, has a boom or bust feel to it as does England's, more so if Flintoff and Harmison both play. For England the key is how much pace and bounce there is in the pitch.
There have been four County Championship matches at The Oval this season, all of which have been drawn. The first, in April, was badly rain-affected; the second, in May, produced a belting finish with spinners in the ascendancy in the second half of the match; the other two, in July and August, were both run-fests in which only four innings were completed and only once was a side bowled out. The total scores in those two matches were 2,400 runs for 19 wickets.
Now, that is the second division of the Championship versus a decisive Ashes Test on a pitch that hasn't been used before this summer. I'd be disappointed and surprised if there wasn't some pace and bounce in it. The question is whether England's bowlers can use it to their advantage.
It should turn later on and, again, the question is whether Graeme Swann can be effective. He has had one good performance in this series, at Lord's. At other times, at Cardiff and Edgbaston, he has bowled poorly. He has at times been like an over-revved car: his natural ebullience and enthusiasm has tipped unhealthily into the red zone and resulted in an assortment of full tosses and other filth.
England need controlled, sustained aggression this week not gung-ho, hot and cold cavalry charges but I suspect we'll get more of the latter. That doesn't mean they can't win but it does mean the odds are longer than we'd like.
Then there is the Freddie Factor. It was at The Oval, 23 years ago to the week, that Ian Botham, with his first ball after a drugs ban, had Bruce Edgar caught by Graham Gooch. "Who writes your scripts?" Gooch asked him. The same bloke who does Flintoff's we can now reply.
Fingers crossed for a far-fetched farewell.
John Stern is editor of The Wisden Cricketer
Posted in England, Test cricket, The Ashes | No Comments »