October 1st, 2009 by
telford vice
in
England
,
One-day cricket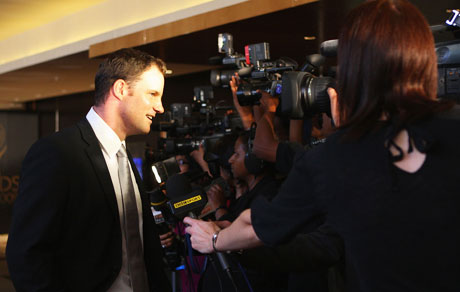 It's good to see that the sense of humour that has helped Andrew Strauss get this far in life is still with him as he contemplates England's Champions Trophy semi-final against Australia in Centurion on Friday.
"You are only as good as your last game and we trounced them at Chester-le-Street," the England captain said as his team wrapped up their preparations on Thursday. "I think we have a hold on them."
Good on you, skipper. And good luck.
English people might doubt this, but there are a heap of us neutrals out here who are quietly hoping that your boys knock the stuffing out of the Aussies.
It's not that we don't like Australians, quite the contrary. It's just that it would make a damn fine story considering the events of England's one-day series against them, Chester-le-Street excepted.
Alas, it's hard to see England getting up to win this one. Australia simply have the better balanced team, and on the pitches we've seen at Centurion during this tournament they have to be favourites.
England might have been better off taking their chances with another Wanderers greentop than battling it out on Centurion's less frisky surface.
That said, they beat South Africa – but a semblance of Australia, but a semblance nonetheless – at Centurion. At the Wanderers, England beat Sri Lanka and lost to, of all people, New Zealand.
And so to the semis. We've said it before, but it bears repeating: Come on England!
Telford Vice is a freelance cricket writer in South Africa
Posted in England, One-day cricket | No Comments »