October 3rd, 2009 by
telford vice
in
One-day cricket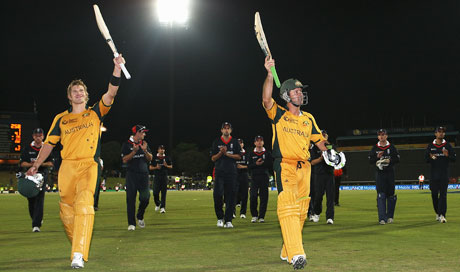 Had an awful nightmare on Friday that ended with Australia earning a place in the Champions Trophy final after England made a hash of the best batting pitch of the tournament.
England swashed superbly but also buckled badly and succumbed to a total that was around 80 runs under par.
"We've got to keep playing or shots and improving our skills," I sort of remember Andrew Strauss saying in the mists of my troubled slumber. I wondered which part of what he said was intended as understatement. Then I awoke …
Hang on … it's all depressingly true. And now here we are, in the throes of Pakistan's unsteady innings in the second semi-final, staring the bleak prospect of an Australia-New Zealand final in its pasty pale face. The successful but boring versus the sweet but bland: it doesn't get less palatable than that.
Twin hundreds by Ricky Ponting and Shane Watson against England couldn't stop the crowd from filing out of the ground before the match had been put out of its misery. So we can only shudder at how much more anaemically Australia might meander to victory against their little brothers from across the Tasman.
"We won't be happy until we peak in the final," Ponting said, ominously, after his team had lumbered into the final.
Which should make all of us Pakistan supporters. At least for a day or two.
Pakistan! Zindabad! Pakistan! Zindabad!
Telford Vice is a freelance cricket writer in South Africa
Posted in One-day cricket | 2 Comments »