October 5th, 2009 by
TWC
in
One-day cricket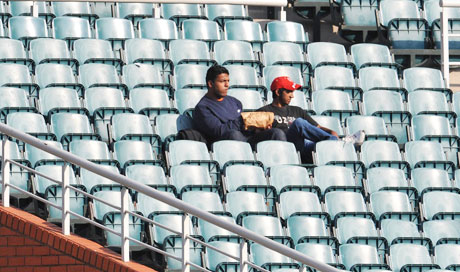 A short tournament with the world's best teams seemed just what one-day cricket needed after a pitiful England Australia series. Yet with just the final remaining, the only remotely close finish the Champions Trophy's 13 matches has produced was Australia's last-ball victory over Pakistan last Wednesday.
Unlike the T20 World Cup (all of five months ago) there have been no revelations, no new skills and no romantic results; instead the best aspect of this Champions Trophy is that it will finish quickly.
Like Big Brother the one-day game has been constantly prodded, updated and contrived - with powerplays, free-hits, even substitutes – to retain interest. Yet unlike Big Brother audiences (in England at least) remain hooked –  players and journalists may have lost interest during England and Australia's seven-match trudge this summer but each was played in front of a capacity crowd.
Whether ODI cricket can keep attracting audiences is uncertain. It's noticeable that even in this so-called trophy of champions, replete with specially-tailored jackets for the winners, crowd numbers were disappointing.
ODI cricket may need another reinvention, with rumblings that Tendulkar's suggestion for two-innings of 25-overs is gaining support. Yet no-matter how it's adapted, close finishes are what one-day cricket needs to sustain support.
Many more series like this Champions Trophy and fans will surely give up altogether, leaving just the administrators and broadcasters waiting for 2013.
Tournament finals should define your weekend but given its dreariness it seems utterly appropriate that this New Zealand v Australia final will be played on a Monday.
Sahil Dutta is a freelance journalist based in London
Posted in One-day cricket | 5 Comments »