October 5th, 2009 by
Sam Collins
in
England
,
Test cricket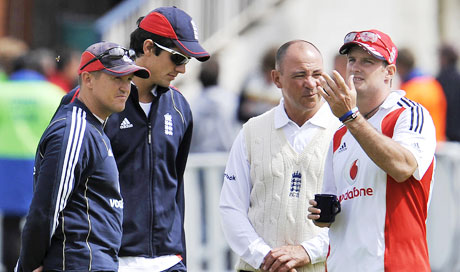 In his Sunday Times piece this week, Simon Wilde discusses the idea of resting Andrew Strauss for the tour of Bangladesh. He quotes a senior ECB source as saying, "Resting senior players from the Bangladesh tour would be a good thing. The captain needs a rest and it will also give Alastair Cook a chance to captain the side. We need to find out if that's a good idea."
Resting Strauss at every realistic opportunity is an excellent idea – as captain and senior batsman his twin importance to England in Tests and ODIs cannot be overstated and every step must be taken to ensure his mind stays as fresh as possible.
Yet his potential absence exposes the fragile state of this England team. Cook, the official vice captain and nominated replacement in Bangladesh, is just 25, has led a side in only one first-class game and, more importantly, has hardly justified his place in recent times – finishing the recent Ashes series with an average of 24. He may yet prove an excellent England captain of the future, but should not accede to the position by default.
Were he to have another poor series in South Africa this winter then the ECB's plans to rest Strauss would be in chaos given the shortage of realistic leadership alternatives in the team.  Paul Collingwood would presumably be in line for a rest, and would be unlikely to want the job given his past experiences. Ian Bell is another with limited captaincy experience who is unsure of his place in the side. Matt Prior has the dual pressure of wicketkeeping and batting, and Stuart Broad is surely too young at 23.  James Anderson? Robert Key? Linda Lusardi?
England have just two other options. The first is Graeme Swann. A long shot, but one who has spent the last two years confounding people. Swann may be a spinner, but is a regular in the side, an experienced pro at 30 if not an experienced Test player, and tells this month's TWC (out on Friday) "I'd make a good captain. I read the game better than anyone I've ever played with. But it'd take a brave decision to make me captain".
A brave decision  – which brings us on to option number two – Kevin Pietersen. We cannot know the full extent of what went on behind the scenes in the Pietersen-Moores fallout, or the complexities of his relationship with Andy Flower. Yet to continue to pretend for much longer that Pietersen is not a senior member of this England team will only do it damage. Since he lost the captaincy Pietersen has kept his head down and aside from a misjudged interview in the Windies and his injury problems, done his utmost to behave in a way that is beneficial for English cricket. He is a senior player. He is, potentially, a full-time England captain again in the future. The ECB must accept this or risk turning this England team into a laughing stock.
Sam Collins is website editor of The Wisden Cricketer
Posted in England, Test cricket | 2 Comments »