October 7th, 2009 by
Lawrence Booth
in
England
,
One-day cricket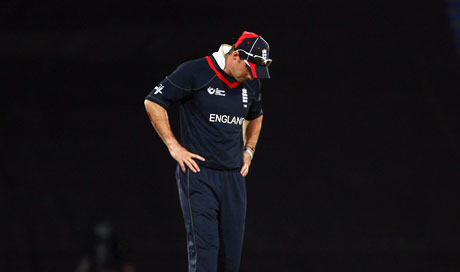 The question has been asked before but has evidently lost none of its pertinence: who would be an England captain?
It wasn't so much that England's Champions Trophy experience tugged its followers from one emotional polarity to the other and back again (a sequence of excellent, outstanding, bad, awful is good news for the bookies only). No, it was the way in which England's bowlers took it upon themselves to test out the middle of the pitch as if it was an especially comfy bed at an MFI sale.
Browsing through Andrew Strauss's latest book this week, I stumbled across a passage on the recent Headingley Test, where you may recall England's bowlers tested out the middle of the pitch like an already stale bed simile. Strauss writes: "Our game-plan was to do what the Australians had done… the same fullish length, pressure at both ends, and patience, rather than searching for magic-wicket taking balls."
He goes on to point out that the first wicket England took that day – Steve Harmison bouncing out Simon Katich for a duck – was "the best possible start, in the worst possible way". Why? Because Harmison's rib-tickler "set an all too tempting example".
The result was that England's attack that day did precisely the opposite of what Australia had done, gift-wrapping boundary after boundary with a sequence of not-quite-quick-enough bouncers to Shane Watson and Ricky Ponting, two of the best pullers in the business. Once the match was over, Andy Flower was so furious he could barely speak.
As two members of that Headingley attack – Jimmy Anderson and Graham Onions – embarked on England's defence of 258 against Australia at Centurion, the thought occurred that the fourth Test might never have happened.
Sure, Onions removed Tim Paine cheaply, but thereafter we were treated to a string of short balls against, you guessed it, Watson and Ponting, who had lost none of their potency on the pull in the intervening weeks. Yes, one or two of the deliveries inconvenienced the batsmen… and then they both made hundreds.
In Monday's final, New Zealand's bowlers did their level best to defend an even smaller target. Hardly a bouncer was sent down by Kyle Mills and Shane Bond in an exemplary opening spell which left Australia 34 for two after the first 15 overs. It was as gripping as it was intelligent: egos genuflecting to efficacy. Australia won, but they were made to work.
Next month, England head to South Africa, where another bowling meltdown could cost them a Test series. After Headingley, Strauss wrote: "We got caught up in the emotion of the moment. As players we had talked in the past about taking the emotion out of cricket, but now we were so desperate to take quick wickets and get back into the game."
England don't have much time to learn that emotion is not all it's cracked up to be when you're an international bowler. And Strauss – assuming he didn't sanction the semi-final tactics against Australia – does not have much time to let his bowlers know that a third collective boo-boo in the space of a few months will raise that question all over again.
Lawrence Booth writes on cricket for the Daily Mail. His fourth book, What Are The Butchers For? And Other Splendid Cricket Quotations, is out now, published by A&C Black
Posted in England, One-day cricket | No Comments »