October 8th, 2009 by
Alan Tyers
in
Alan Tyers
,
Australia
,
One-day cricket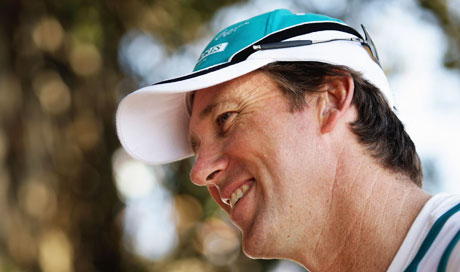 Returning to competitive cricket? I'm as happy as dingo that's just had a big win on the pokies and then seen a two-for-one offer on babies at the local deli.
Now it wouldn't be a contest without a bit of a prediction from yours truly, and even though I'm not entirely certain of the tournament format, I'm going to stick the neck out and say we're going to stuff The Poms 5-0, and anyone else that we happen to come across as well.
I tried to get the fixtures emailed to me on one of the kids' computers – oh yeah, don't be fooled into thinking that we haven't entered the digital age down here in Narromine. We're all into the email, the Twittering – it's great for a really good, concise sledge in 140 characters or less. "You bat like a girl you fat Pommie poofter" or a simple "Your mum ***** ***** ** ***** mental ****** disintegration *** ****** ********* mate **** ****** *** no offence we'll all have a beer after"
Even old Bob Phillips has got a Facebook page set up for his sheepdip where you can write on his wall and ask him what sort of colours he's got going that day and check out the status of a couple of the lovelies and what have you. Incredible stuff.
Digital age or not though, I'd be buggered if I could get an email back from the powers-that-be at the Delhi Daredevils. Now my method has always been to keep it simple: a direct nagging line. I must have written to them ten times checking that I would actually be playing in the bloody games this time rather than just keeping the bench warm with the likes of Paul Collingwood MBE or getting flaming drinks. I tell you, the heat out there in India: it's not right at my age to be sitting there sweating like David Boon when the Weightwatchers woman comes round for a progress update.
Well, for whatever reason, probably some sort of technical snafu, I've not had a reply. So I'll just concentrate on staying as fit by taking my dog, Metronomic Accuracy, for a few long walks across the bush; bedding in this new plastic hip; cranking the speedo up to the mid-eighties (kilometres) and practicing my snarling in the hallway mirror.
Alan Tyers was helping Glenn McGrath figure out the old email
Posted in Alan Tyers, Australia, One-day cricket |