October 12th, 2009 by
Edward Craig
in
Australia
,
Australia in India
,
IPL
,
Interview
,
Test cricket
,
The Ashes
,
Twenty20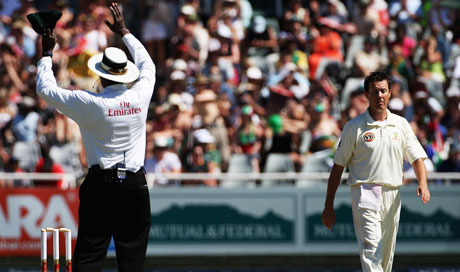 In March this year, Australia picked a debutant legspinner at Cape Town against South Africa. This was Warne's replacement, the answer to Australian spin troubles – Bryce McGain had had a number of solid seasons for Victoria and, despite being a week short of his 37th birthday and Australia's oldest debutant, he had forced his way into the side. That was as good as it got. Kallis battered him, de Villiers cashed in, Australia lost by an innings and McGain took home figures of 18-2-149-0. It was a brutal introduction and swift ending to his international experience. Now, in the glamorous surrounds of the Champions League in Delhi, where he fights even to find a starting spot for the Victoria Bushrangers, he's had a chance to digest the toughest and briefest of Test careers:
Your Test career started slowly and finished fast. Did the selectors treat you harshly?
I don't think so. But my whole Test career is bowling in one innings – I have only bowled in one. I hope there is more to come and I am not giving up hope of representing Australia again – and that just comes from performing well for Victoria in the up-coming season. I am ready to do that I am confident in my own ability. If it doesn't well – that is the way it is – it is out of my hands.
Does being a legspinner help your chances of selection?
People realise wristspinners win matches. Australia have looked at their pace attack as their major weapon going into their last four series and they have lost three of them. They are the facts. If they keep going with the same formula, maybe it won't be that successful. Maybe they need to look at different options. If that is me or the other spinners around … Australia need to consider what the best make up of the team is.
What was that Test debut like?
It was tough – it was a tough time to bowl, they'd put on a solid partnership, the wicket was flat and it was day two. It is Test cricket and it is bloody hard.
Did you bowl badly?
In terms of my execution and where I wanted to put the ball, there was only half a dozen balls that I didn't put where I wanted. Some days – and it hasn't happened that much in my career – some days the batsmen are a page ahead of you. You bowl a bit quicker, they are waiting, when you flight it up they've read that page as well. It felt like that. I wasn't shattered about it. As a player if your emotional state reflected your bowling figures or batting stats you'll be a mental wreck. I don't play cricket to be a mental wreck, I play because I enjoy it. That is why I still do it now and want to do it for a number of years yet. I analysed it and they batted well, they took to me, the conditions were in the favour of the batsmen. It would be nice to get another chance.
Did Warne hurt legspin in Australia by putting expectations on legspinners?
Everyone has now accepted that he was a freak – to be able to do that so young and be able to do it for so long. I was one of the spin bowlers involved in the Australian rotation and they are now settling that down – they went with Krejza for a while, then Beau Casson, I got an innings, Hauritz for a bit, then not – they have been unsure and I guess they have realised that that is unsettling. A player needs to have a couple of games, have a good run – 'we're going to back you here'. That has happened to Hauritz now. In the Ashes the plan was to back our quicks to take 20 wickets and that hasn't been a successful formula in the last four series. We have good strike bowlers, don't get me wrong, they are great fast bowlers but you do need a match-winning option who is going to bowl spin.

Do you ever feel you are in Warne's shadow being a Victorian legspinner?
I just wanted to be the best I can be. It took me a long time to break through because he was in the team. That is just the way it went. It made me a better player, I had to keep getting better to get in the side. Expectation is what other people felt. I was confident – the wicket is the same length whether I am playing grade cricket or for the state. I just keep trying to do the same thing and keep it simple. I just try and miss the middle of the bat.
How is your relationship with Warne?
He's been good in recent years. I talk to him often about tactics. I spent my time in the winter when I wasn't picked for the Ashes speaking to him about his experiences in India – especially about Twenty20 cricket where he was so successful – tapping into those tactics. He has toured here a number of times: I don't need to do four tours to ask him what works and what doesn't.
Bryce McGain was speaking to Edward Craig, deputy editor of The Wisden Cricketer
Posted in Australia, Australia in India, IPL, Interview, Test cricket, The Ashes, Twenty20 |