October 15th, 2009 by
Edward Craig
in
Champions League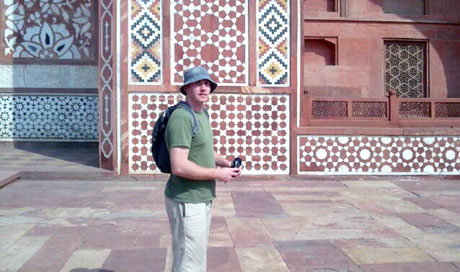 Decide to go for a wander around Delhi – Connaught Place is the tourist shopping centre – a layout of confusing and massive circular roads, stuffed full with shops, people, markets and offices. There's also a beautiful park in the centre.
I am not sure what it is but people spot me as a visitor – I even put on a sunhat to cover the ginger hair and hid my camera in my rucksack – but they still come up offering help.
"Polish your shoes, sir?" I am wearing flip-flops and suggest that it might not the easiest job. "Anything is possible, sir. Anything."
We walk further down the street and avoid a tuc-tuc crossing the pavement.
"Where you from sir?" England I say, worried that I'll be led off to buy a high-quality bag.
"London, sir?" No, Corbridge, I say, becoming wilfully obscure.
"Ah. Very expensive, sir," he replies, displaying surprising knowledge on the sustained property boom in the Newcastle green belt.
"Why you here, sir – business or travel, sir?" Business, I say. I am here to watch the cricket, I am a journalist.
"Ah. Cricket. The Twenty20 at Feroz Shah, sir. The wicket is very low and dead – it is not good." He's right. "But one player has mastered it, sir." His eyes flash and he grins: "Sehwag." He's right, of course, Sehwag had blitzed a fifty the day before when no one else could do much more than push a single to the boundary.
"Who is your favourite England player?" he asks, the 'sir' has disappeared, and the question stumps me. I suddenly realise I don't actually like any of the England players much. Pietersen probably, I think he's misrepresented – but I can't bring myself to say that. I say no one.
"Who's your favourite Indian player?" This tends to be a question with a right and a wrong answer: Sachin or Sehwag are the right answer. But I tell him the truth – I say the Nawab of Pataudi, India's ground-breaking captain from the 60s and 70s.
"No way," he says. "He's not played for a long time." His eyes glaze over. He seems to have become all reverential. "He is great player, a great man," and he gives me some of Tiger Pataudi's Test stats.
He seems in awe of Pataudi – if Sachin or Sehwag is God, then Pataudi is their God. God's God. That's how he views it.
We've now arrived at his market stand and I hadn't even noticed. "Good bag, this is a good bag. Very high quality."

Edward Craig is deputy editor of The Wisden Cricketer
Posted in Champions League | 14 Comments »