October 16th, 2009 by
Benj Moorehead
in
International
,
Pakistan
,
Twenty20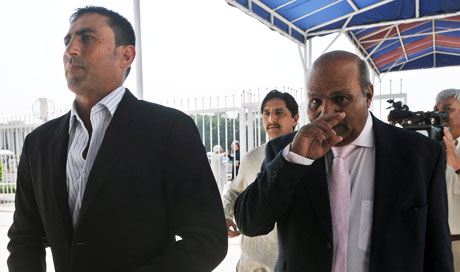 Nine months in the life of Younis Khan:
January 2009: made captain of Pakistan, a team short of cricket-playing options because of the perceived security threat in the country. He returns to Test cricket with a triple hundred against Sri Lanka at Karachi and is briefly the number-one ranked Test player in the world
Then Lahore and the attacks on the Sri Lankan team. No more cricket in Pakistan for the foreseeable future.
The World Twenty20 begins in England in June. Younis's team are abysmal in the first week of the competition. The captain himself is not helped by a casual post-match statement: "In this form [of cricket] it is better to take it easy and have fun. It is like WWF". Younis's captaincy comes under scrutiny. But within a week he has led his team to Twenty20 glory, lended extra poignancy because of the problems of Pakistan cricket and the country at large.
Then a bizarre incident in Sri Lanka during Pakistan's Test series there in July. The players, though accused of nothing, are reported to have been approached by bookmakers in a Colombo hotel. After an unsuccessful tour the Pakistan media turn on Younis, who instead pleads for more time for a side that is rebuilding after 18 months of precious little cricket.
The backdrop to all these events is a Pakistan board constantly sacking, appointing and squabbling.
Now we're into the Champions Trophy. Pakistan play well, and no Pakistan captain can wish for anything more than to beat India. But they subside miserably in the semi-final against New Zealand.
At which point an MP representing Pakistan's national committee on sports asks Younis to appear before them to answer an accusation by a journalist that Pakistan threw the game against New Zealand.
Younis has had enough. He resigns. Ijaz Butt, the latest chairman of the board, does not accept it. So Younis runs up to him following his questioning by the sports ministry and waves his letter of resignation in the face of Butt. Again, Butt declines to accept. The situation remains unresolved at present. "I've been hiding from people, from friends, from family, as if I've done something wrong," says Younis.
It is difficult to know what we can conclude from this madness. Certainly it highlights the ever-more precarious nature of Pakistan cricket. Already heavily wounded by its security situation at home, it suffers doubly from a reactionary, ever-changing board, a general mistrust within Pakistan cricket whereby match-fixing is an issue always lurking beneath the surface, and overdoses of short-termism which mean that every venture begins to collapse upon its erection.
No wonder Mohammed Yousuf, and others, have sought to play their cricket elsewhere. It would be no surprise, particularly in an age where domestic teams are becoming a profitable business, if others do the same.
Benj Moorehead is editorial assistant of The Wisden Cricketer
Posted in International, Pakistan, Twenty20 | 2 Comments »