October 17th, 2009 by
Edward Craig
in
Champions League
,
IPL
,
Interview
,
Stanford Twenty20
,
Twenty20
,
west indies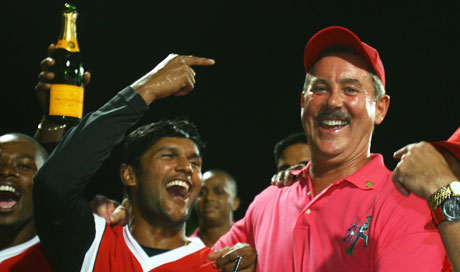 Trinidad and Tobago captain Daren Ganga has led his team brilliantly in the Champions League so far. Last night, the team pulled off an astonishing win as Kieron Pollard made 54 not out from 18 balls when the West Indians looked buried. Afterwards, Ganga talked Stanford, Twenty20 and West Indies …
Could you give the full West Indies side a game – could you be a national side on your own?
We have played them in the past. But we are not thinking of taking on the West Indies. West Indies cricket is so much more valuable to all the West Indies people. It is the only thing in the Caribbean that unifies. The Champions League can be seen as a positive so that West Indies cricket in the end benefits. We have all seen the results of Sir Allen Stanford and his investment in the Caribbean and in young cricketers. What we are doing here will go and inspire so that West Indies cricket can be improved and enhanced.
How do you view the Stanford games?
He has done so much for cricket with the investment he has made in young cricketers – different islands in the Caribbean have benefited tremendously. Some of the players currently playing in our team are only here because of the Sir Allen Stanford tournament. Those are the sorts of things that need to happen in our cricket.
What do you make of Stanford now?
A number of the guys are emotional about Sir Allen Stanford and some guys do not know the details about what is happening with him. As a player, when someone steps forward and makes investment with regards to your own development and your benefit overall you cannot let that pass. I am sure all the guys who have benefited are very grateful for Sir Allen Stanford. We don't condone illegal stuff but his contribution to Caribbean cricket cannot go unnoticed and we must be grateful for his initiatives.
Will there be another Twenty20 event in the Caribbean?
With Sir Allen Stanford being on so many fraud charges, we've heard rumours about the West Indies board hosting its own Twenty20 tournament now. The Stanford tournament is not going to take place again. The board has plans to have this competition in November or December. No details at all.
Is this tournament hitting the headlines back home?
Yes it is making big news back in Trinidad, everyone has been pleased with the level we are playing at and everyone understands the magnitude of this event. We have been receiving emails from other Caribbean countries who are sending best wishes and congratulations.
Why is it so important?
We knew before hand that we would not be representing just Trinidad and Tobago. Looking at the format of the tournament, there are representations from Test playing nations. As much as Trinidad and Tobago has a right to play in the competition by qualifying by being the champions in the Caribbean, we have a bigger responsibility – we do represent the entire region. At the moment, our football stories are nothing to write about – we are disappointed with our World Cup qualifications – so people will be happy that one of the sporting teams is bringing glory and pride back to the Caribbean.
Does it make a difference that you are national as opposed to regional side?
Of course – from a cricketing point of view it is not much different. We represent Trinidad and Tobago yes but if you compare it to the set-up and framework in Australia and South Africa you realise the teams are all first-class. We are all on a level playing field. From a national and patriotic point of view we have got that little bit extra through what we represent to keep us passionate and to keep driving us to go and do well.
Can you win it?
We are well placed at the moment, we have to keep our heads on our shoulders we have to make sure that all these successes amount to something substantial. With Twenty20 the result can go either way – it is the team that plays better on the night, the team that adjusts, adapts, the team that can handle the pressures. We have more challenges to face and we will be preparing very hard. We could get better. We have not played to our full potential yet. We are capable of playing very good cricket. It is a talented bunch of young cricketers mixed with those who have played at the international level. It is important for us to stay level-headed. We have come here to play six finals. We have played three so far and we have done well. Our next focus is playing in our fourth final we are not going to jump too far ahead. We have a belief and a common goal and they represent one flag – the red, white and black.
Have you picked up any Indian fans?
I think so – people would have hated us because we have been able to knock Deccan Chargers out of the competition and we hope that fans who were supporting their local Indian sides can find some way to adopt Trinidad and Tobago because of the quality of cricket we are playing. We were disappointed by the crowd yesterday. The fans create that atmosphere that encourages the players to perform but it is important to focus on playing the game. It was not packed to capacity but there were millions of people watching on television and most of them are back in the Caribbean. We just want to carry on playing proper cricket so that our people will be proud of us and those who have not seen us before can see the talent and ability that the West Indies still possess.
Posted in Champions League, IPL, Interview, Stanford Twenty20, Twenty20, west indies |