October 19th, 2009 by
Edward Craig
in
Champions League
,
IPL
,
Twenty20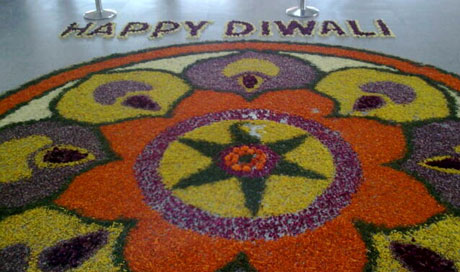 One of the great things about cricket is the way it merges, mixes and enjoys all its nations and cultures. This is the great privilege of the sport and to find myself in India during Diwali was a treat.
Diwali – the Hindu 'celebration of light' – is the major public holiday here and for Hindus around the world. That Lalit Modi scheduled the inaugural Champions League over this festive and extraordinary time is not an accident.
The holiday not only celebrates light but also the triumph of good over evil – which sums up Sehwag's innings early in the tournament on that slow, dead Delhi track.
Everything is about colour – complex flower-arrangements appear all over the streets, and other public places. There're plenty of Diwali sweets to eat and most people dress for the occasion. Indians know how to dress in colour.
But the celebration is mainly about one thing – letting off as many fireworks and firecrackers as you can buy as soon as it gets dark. If November 5 in the UK can be noisy, this takes it to a whole other, Indian, level.
I wasn't doing anything for Diwali – I was in Hyderabad in between games. Kieron Pollard had hit his 'firecracker' 54 off 18 balls the night before (as the commentators had it). The hotel was very quiet, few guests and a smaller number of mostly Muslim staff. As soon as it got dark, I asked if I could watch the celebrations from the hotel roof giving a panorama of the Hyderabad skyline. Hyderabad is much like Birmingham – flyovers and office blocks rubbing shoulders with shopping malls.
And from the tops of these buildings were thousands upon thousands of fireworks screeching and exploding. As far as I could see, to the horizon of the metropolis, the whole place was lit up and booming. It was magical, mesmerising and very loud.
I decided to take a walk at ground level. Health and safety are not a massive deal in India, so scrambling over broken pavements and avoiding crackers and mini-flares burning on the side of the main road kept you on your toes. But the atmosphere of celebration, of wanton playing with fire, banished misgivings.
Of course cricket plays a part – I tried to get my hands on a Viru Bomb or Yuvraj Rocket (they were advertised) but failed. The players got involved – Doug Bollinger the New South Wales Blues opening bowler was spotted buying £40 worth of explosives and giggling like a small boy.
On the television, Royal Bangalore Challengers were making mincemeat of the Delhi Daredevils (who I have now decided are my team). The commentators were all in celebration garb – Pommie Mbangwa in a brilliant turquoise outfit, Ian Chappell in gold and getting away with it, Ravi Shastri looking oil-slick smooth …
I realised that at this time of year, lots of English like to set off fireworks, light bonfires and burn effigies of Guy Fawkes. This is a celebration of good over evil, or an anti-Catholic symbol of repression, depending on your view.
What does this say about our respective countries – one celebrates light each year, the other celebrates repression?
That's far too complicated to tangle with – far beyond my powers of reasoning. I think everyone just loves setting off fireworks – and the more the merrier.
Happy Diwali Everyone!
Edward Craig is deputy editor of The Wisden Cricketer
Posted in Champions League, IPL, Twenty20 | No Comments »