October 22nd, 2009 by
Alan Tyers
in
Alan Tyers
,
England
The McGrath Foundation are releasing their annual calendar of Australian cricket hunks. Not to be outdone, the ECB have unveiled plans for their own series of pin-ups…
MR JANUARY
England run machine Ian Bell carries two heavy canisters of hair gel home from Superdrug.
MR FEBRUARY
"Oooh, you just wonder, don't you, on the one hand, I'm sitting on a rock looking thoughtful and interesting but, you know, who's to say that, on the other hand, maybe I'm sitting on a rock looking interesting and thoughtful." Nick 'Knighty' Knight
(Out of shot: Wardy and Crofty on boogie board)
MR MARCH
Steve Harmison reveals the full horrors of an England tour aboard. "Natives stole wuz clothes" says Big Steve.
MR APRIL
Michael Vaughan retired after a legendary spell as England captain and is now patron of a charity that aims to give children with ADHD a chance in life by helping them design golfwear. Benny hat: model's own.
MR MAY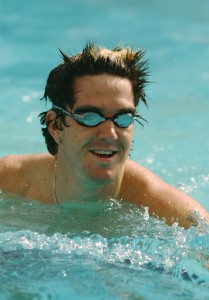 The life of the sporting superstar is incredibly busy – but it's vital to look good. England batsman Kevin Pietersen has had a sunbed installed IN his pool, meaning he can tone up and tan at the same time.
MR JUNE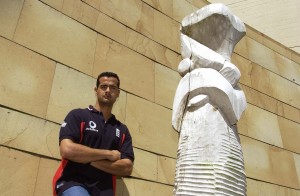 History buff alert! On a tour of New Zealand, England batsman and run-out specialist Owais Shah learns a bit about the Maori god of confusion Yesnosorri.
MR JULY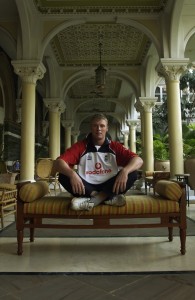 Since retiring from international cricket, Andrew Flintoff has taken a gap year in Goa, where he has found himself and discovered the mysteries of yoga. "I've totally rejected Western materialism and the pursuit of money," says the big allrounder. "Don't you bloody dare," jokes his agent Roy 'Chubby' Brown.
MR AUGUST
The England Women's Team's Ashes victory was achieved despite the constant offers of coaching assistance from Phil DeFreitas.
MR SEPTEMBER
After their Ashes win, England's heroes were some of the most marketable properties in the world of sport. Here, Matt Prior and Stuart Broad bring home the bacon with this high-profile belt-modelling gig. "This belt keeps my trousers in good areas," smiles Broady, while Matt Prior admits: "Life's been good to me."
MR OCTOBER
Who's Surrey now? "Don't be a spanner, Butch," quips The Gaffer. "I've always hated you" laughs Butch.
MR NOVEMBER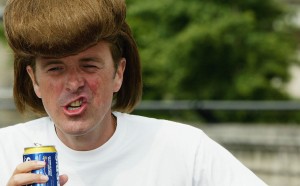 "Spare 10p for a cup of tea?" asks Phil Tufnell. "I had my own Christmas bloopers DVD you know." Retirement can hit some cricketers hard: the PCA benevolent fund does amazing work with former pros reduced to appearing on BBC light entertainment shows.
MR DECEMBER
With the flood of money into cricket, it is hoped that centrally contracted England players will one day be able to afford a shirt each.
Support the McGrath Foundation here

By Alan Tyers with picture research by Sam Collins
Posted in Alan Tyers, England | 2 Comments »