October 23rd, 2009 by
Sam Collins
in
England
,
Miscellaneous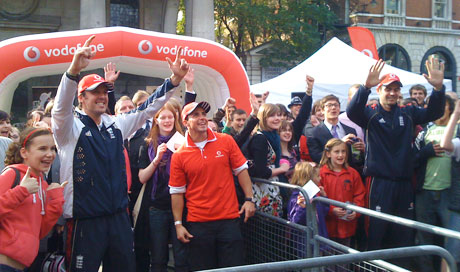 London. One afternoon, two England cricketers, 171 bemused tourists and 22,000 non-attendees. It could only be the Vodafone Twitter challenge – 'the biggest Tweet-off you have ever seen!' – factually accurate in the same way that Ben Fogle is absolutely the most watchable TV presenter there is by the name of Ben Fogle.
Texting may be off the menu for Emile Heskey, but with the Vodafone PR machine on hand there were no such problems for Jimmy Anderson and Graeme Swann. With honour and 'the ultimate bragging rights on winter tour' apparently at stake the lads had to get their game-fingers on to get as many of their 'mates' along to Covent Garden as possible by tweet, text, or even giving them a ring, or oblivion beckoned.
Tactics varied – save the odd stare for opposing batsman Jimmy always looks a polite sort on the box, and his rallying call was more Just William than William Wallace: "Bedtime now. Got a big day tomorrow. Having a tweet-off with @swannyg66 at 1.30pm in Covent Garden. Everyone more than welcome to pop down!" Good line and length Jimmy, nice shape, but not the sort of stuff that's going to swing round corners and catch 'the biggest Tweet-off you have ever seen' plumb in front.
Swanny's late blooming is well documented, and you don't spend years on the county treadmill without picking up a few dirty tricks – punctuation discarded, big name enlisted and a bribe to clinch it: "Fearne i need a shout out on your show. cov garden square, 130 today, me and jimmy having a live twitter off, will watch your show tonight!" Swanny described himself as a 'thinking cricketer' to TWC recently and you can see where he was going with this one, but with Fearne Cotton's listeners more likely to turn up in their tens for John and Edward than Swann and Anderson he had perhaps not chosen the best recruitment ground.
So it proved, as with five of the allotted 10 minutes gone, Jimmy and Swanny stood gamely in near-empty sheep pens being peered at curiously by a handful of tourists. "There's only four in it", screamed the by now hysterically inane compere, possibly referring to the score but he could have easily been looking at Jimmy's pen – One man and his dog it was not. Swanny summed things up in a frantic Tweet-to-arms, "was hoping for 20 thousand, have got about twenty! come on you lot!" Perhaps they had misunderstood Fearne's message and were all outside BBC Television Centre.
Mercifully for all involved (mainly the PRs) things began to pick up slightly, probably as our heroes began to tweet sledge each other and remind their fans that cricket is occasionally about combat rather than all-singing mobile phone handsets. Jimmy's monobrow, Swanny's chin – not original jibes but a familiarity that was comforting in such an exposed venue, and must have had something to do with the influx of four Japanese from a nearby EAT.  It could also have had something to do with the 'mystery prize' being offered to anyone or anything who would allow themselves to be herded inside, but for whatever reason numbers had swelled to over 150, cricket fans were on the verge of double figures, and the time was up.
So who had won? Swanny by a chin – 90 to 81 – the joy was there for all to see, or read: "wow, this is so unexpected! i just want to thank fearne, you guys who turned up, my mum and dad, max and paddy…. just everyone who's been there for me. they said it couldn't be done..but we showed them!!" Clearly distraught, Jimmy hid his emotions well: "Lost! Ah well! Was reasonably close. Thanks to everyone that came! I wasn't uncomfortable at all!"
All that remained was the 'mystery prize', which turned out not to be the rumoured £1,000 but a signed cricket bat for someone to carry around for the rest of their shopping trip, and that was that.  At least for "the biggest Tweet-off you have ever seen!" But Jimmy and Swanny were there for a good deal longer, signing autographs and talking to fans with a patience and good humour that was worth more positive PR than a hundred tweets.
Sam Collins is website editor of thewisdencricketer.com
Get you and your mates in one place and be in with a chance of winning a £36,000 experience of a lifetime with Vodafone 360. Find out more at www.allyourmatesinoneplace.com
Posted in England, Miscellaneous | No Comments »