October 26th, 2009 by
TWC
in
Miscellaneous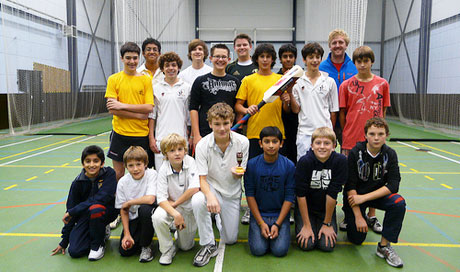 Oli Broom is cycling to the 2010-11 Ashes, and he's made it to Germany. Please go to the bottom of the page and donate to one of his chosen charities.
Below are extracts from his latest blogs on his progress through Belgium and Germany. You can read the full posts on www.cyclingtotheashes.com.
It has been fascinating to learn about Belgian Cricket – upon arrival in Ghent, I was met by Tom van Poucke, a South African of Flemish descent, who has moved to the city of his birth and joined The Arcadians Cricket Club. If your club is looking for a new venue for a pre-season tour then give them a go. Made up of cricketers from every Test playing nation, they have a great team spirit that plenty of clubs back home could learn from. Cricket in Belgium is developing, and it was great to get a chance to visit the British School of Brussels in Tervuren to see how seriously it is now taken. After giving a talk to one of the GCSE classes, I met up with some of the school's cricketers for a net session, where I was asked by one of the boys if I had played for England. I was tempted to not let him down, but knew my batting would give the game away. Cricket is booming in Belgium, as it is across Europe.
Learning about Flanders' History was another highlight. I saw the spot where John McRae wrote his famous poem 'In Flanders' Fields,' and also the site of the famous Christmas Day football match, learned about the Battle of Messines, in which Adolf Hitler fought, and was hugely honoured to lay a wreath at the Menin Gate Memorial to the missing on behalf of my two charities. The gate lists the names of 58,000 British and Commonwealth soldiers who were killed near Ypres during World War One, but whose graves are unknown. My history lesson was humbling, and served to make my cycling trip seem very small indeed.
In the past week I have learned a lot. I have learned that in Belgium the language seems to change every few kilometres; I have learned that I can cycle 100kms a day; and I have learned that I should plan my route more carefully from now on, always trying to follow the thin blue line on the map. Rivers are, by definition, almost flat to cycle alongside. Germany has over 45,000km of cycle paths and most of them follow rivers. So if my route looks strange, that is the reason.
I also had a Eureka moment. As I pedalled out of Durbuy, in Belgium, and down river valley after river valley, I began to appreciate my surroundings, and my journey. Until then I had been unable to focus on the present, always thinking "God it's a long way to Brisbane, I'm never going to get there." But that day my energy levels were so high and the cycling became easy. I began to enjoy the moment rather than worrying about what lay ahead. Since then I have found things less difficult. I give myself targets, and reward myself every time I reach that target: I turn my Ipod off until I reach a certain town, and then when I get there, I listen to five songs as a reward; I buy a Mars Bar and tell myself that I'm allowed it after I have cycled 15 more kilometres. I simply can't cycle without a goal…maybe I should learn to!
You can follow Oli Broom's journey to Brisbane on thewisdencricketer.com, or at www.cyclingtotheashes.com, or on twitter at http://twitter.com/cyclingtoashes. Oli is aiming to raise £50,000 each for the Lord's Taverners and the British Neurological Research Fund (BNRT). Click to donate.
Posted in Miscellaneous | No Comments »