October 30th, 2009 by
Sam Collins
in
Miscellaneous
,
One-day cricket
,
Test cricket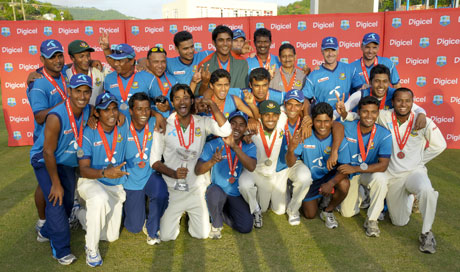 Readers of the November issue of TWC will have noted that the second winner of TWC's Test Player of the Year was not Gautam Gambhir, Graeme Smith, Andrew Strauss or the previous winner Brett Lee, but Bangladesh's 22-year-old allrounder Shakib Al Hasan. This was no miscarriage, no distortion of statistics and no fluke – Shakib took three five-fors in four innings against South Africa and Sri Lanka with his left-arm spin, and scored 96 twice, against Sri Lanka and West Indies – the latter a series-winning innings while stand-in captain.
Shakib is an aggressive player whose style could come to epitomise the future of Bangladeshi cricket. Whipping boys in the senior game since they received Test status in 2001, the performances of their junior sides is giving notice that this may not be the case for much longer. Shakib can be their trailblazer in the way that Aravinda da Silva was for Sri Lanka, and has an excellent opportunity to make an impression on English minds in Test series in Bangladesh and England in 2010.
Just ask the touring England under-19 side whether the Bangladeshis can play. Yesterday they went 4-0 down in their seven-match ODI series having lost the only Test by two wickets, and with three ODIs still to play the 7-0 whitewash that the seniors narrowly avoided in the summer remains a chastening possibility.
Like Shakib, the most potent members of the Bangladesh U19s attack have been spinners. England's batsmen have faced left-arm orthodox, offspin and legspin and been unable to deal with any of it, with spin accounting for 26 of the 39 England wickets to fall to date in the ODIs. England coach Mick Newell agreed: "It's a huge learning curve for all of us. Cricket over here is very different - the pitches are quite slow and they turn a lot.
"We have been facing 35 overs of spin in the 50-over matches and starting well against the quicker bowlers, but as soon as the spin bowlers come on we have had a problem knocking the ball around. That builds pressure which has led to mistakes being made."
The excellent news for Bangladesh is that their spinners were no less of a handful in England in the summer, where despite losing the Test series 1-0, they took the one-day series 2-1.
Translating achievements at junior level into tangible senior success is notoriously difficult, but Bangladesh have had no option but to give youth a chance. The average age of the senior side that thrashed Zimbabwe by seven wickets (with Shakib scoring a hundred) in an ODI yesterday was just 22, so there is a clear path for England U19's tormentors to follow. It's pretty early in their progress, but international cricket couldn't half do with an exciting, dynamic and youthful Bangladesh team competing consistently against the world's best.
Sam Collins is website editor of thewisdencricketer.com
Posted in Miscellaneous, One-day cricket, Test cricket | 1 Comment »