December 3rd, 2009 by
Edward Craig
in
Test cricket
,
sri lanka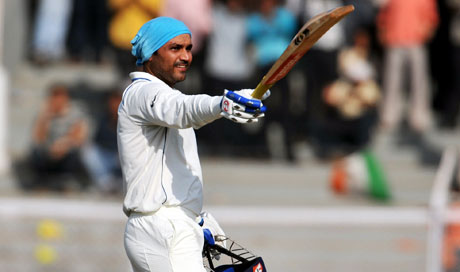 Every young cricketer is someone else, we all know this. The players we mimic inspire us. They cause sibling arguments: "I'm Botham." "No, I am." "No, you're rubbish, you can't be Botham. You're David Capel." Tears.
Now, as an adult, you can keep those dreams but without the arguments. So, along with the whole of India, today I am Virender Sehwag.

Actually, I've been him for a long time, scored with the same freedom and lack of fear, hit sixes until I've grown bored, made the fastest 250 in Tests – beating my own record – and won matches in a session with the bat; bowlers can win matches in a session with ease, for a batsman to do it, you're special.
But, I have worshipped at the Church of Sehwagology for years – and today's destruction of Sri Lanka just reminds you why: touch, power, angles, imagination. Test cricket is dead … ?
As I was growing up, I was a combination of Bill Athey and Martin Crowe when batting, Harold Larwood then Colin Croft when bowling. I never liked the arguments and there wasn't too much competition for them.
Sehwag reminded me that as a grown up it's still important to be someone else. For today and forever and ever, I am totally Sehwag.
Edward Craig is deputy editor of The Wisden Cricketer
Posted in Test cricket, sri lanka |