February 24th, 2009 by
JRod
in
Test cricket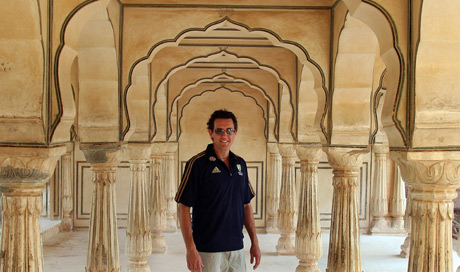 You may not have heard of Bryce McGain but within the next month he is going to be the oldest debutante for Australia in decades. If he performs, he could be Australia's main weapon over the next two years. If not, he could become a punch line. Whatever happens he has struggled longer and harder than most to get the opportunity.
If Australia choose four pacemen for the Test at the Wanderers, he may have to wait until Australia make it to Cape Town. For some players, being this close to making their debut for their country would be excruciating but Bryce knows how to wait.
Bryce is 36. That's a lot of waiting. Two years ago he was a club cricketer (for Prahran) with a handful of first-class games to his name, a son he shares custody of and a day job as an IT banker. But he had a dream, one that no one else believed in. He thought he was good enough to play cricket for Australia. At 34 in club cricket others would have sniggered.
Bryce just kept on plugging away and when Victoria realised they needed a full-time spinner, as Cameron White pretty much refused to bowl himself, Bryce was brought in. It is said that White and Warne were the reasons Bryce was never picked for Victoria earlier. In truth Warne never played for Victoria, and White played as a batsman since 2004. The selectors just never thought he was good.
They saw a 30-something guy, who by his own admission didn't really learn the trade till he was 28, as a good club cricketer who could on occasion cash-in on spin-happy pitches. Bryce didn't share their thoughts. He saw himself as a terrifically fit, mature cricketer who knew his game inside and out and knew that as a legspinner he was just hitting his peak.
Turns out he was right. Once the Vics brought him in as a full time option, at 34, he starred. He took more wickets than any other spinner in Shield cricket (38 at 34), was the leading wicket-taker in the one-day competition and was a big part of Victoria's second Twenty20 championship. Eventually the Australian selectors were impressed and he got himself a ticket to India as the No.1 spinner.
His selection was deserved but only came through a freakish 14 months for Australia where Warne retired, Stuart MacGill's TV show got popular and Brad Hogg finished playing when his wife got sick.
But it would have been too simple from there for Bryce just to make the side and play. Instead he couldn't shake off a shoulder injury and as Cameron White struggled, Bryce flew home. The simple shoulder injury turned into a major operation and while Australia tried Nathan Hauritz and Jason Krejza, Bryce had to watch. Finally recovered, he had one first-class match to earn his spot for the South African tour. He took a five-wicket haul and was selected.
This time he travelled fully fit and yet again as Australia's No.1 spin option. It should have gone smoothly, but he missed the team plane, got smashed in the only practice game, and then couldn't bowl in the second innings due to a stomach bug. Other cricketers may worry, but life has thrown tougher obstacles at Bryce. He is on the cusp of doing something that no one thought he could do anyway.
Bryce represents every person who has ever held onto a dream and never given up hope. He is us, sitting in our cubicle, hating our job, dreaming of playing for our country. With a bit of luck, one of us just might do it.
Posted in Test cricket | 5 Comments »