February 17th, 2009 by
Daniel Brigham
in
England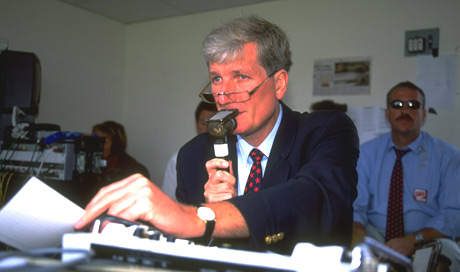 In the fourth of thewisdencricketer.com's new weekly interview feature, Daniel Brigham interviews Bob Willis.
Willis, who is now an integral part of Sky's cricket coverage, is a former England captain who took 325 wickets in 90 Tests.
Steve Harmison, a tall fast bowler like yourself, is still in the England team despite numerous failures. Should England be sticking with him?
Well he's an enigma really. I think he's been very lucky because he's been given so many chances.
Too many chances?
Yes. It's one of the weaknesses of the central contract. I find it incredible that the people who are paid large sums of money to manage him don't actually manage him. How he turned up unfit for the tour of India is quite beyond me.
Should he be made to run five miles every morning like you famously did?
It wouldn't do him any harm. I'd prefer to see the players doing that than all of this weight training in the gym. Somebody should be on his case.
Ian Bell was dropped for the current Test. Why don't you think he's been able to convert his talent into runs?
I think it's highly optimistic putting him in at number three. In my early days we had three opening batsmen who took the first three positions and England have done that recently with Trescothick, Cook, Strauss and Vaughan. If you're not doing that I think the best player in the side should bat at three. So I think Pietersen should bat at three. He has a good technique to keep out the new ball and also has the game to increase the pace if he goes in at 150 for 1.
What did you make of the referral system in the first Test. Are you a fan?
I am a fan. It clearly needs refining because the standard of umpiring is hopeless now. Two of the umpires in this series, Daryl Harper and Tony Hill, are dreadful umpires. I think the three umpires should rotate as a team, giving the guys a rest.
Is two referrals the right amount?
It's better than three. The referrals may be better if they came from the umpires rather than the players. If the umpires were doing it then they could refer at will. What we want is more correct decisions and if referrals help that then we should see more of it.
Do England need a coach?
The current mentality seems to be that the coach has to be upfront like a football manager. Other countries generally have their coach in the background and they're more effective for that. I don't think one of the highest paid people in English cricket should be the coach. He should be there if the players have got a technical problem. I don't understand why there's a batting coach, bowling coach, head coach and fielding coach when the guys are on tour. They can have that up to the first Test but I'm not sure how much coaching can be done between Tests, especially when they're back-to-back.
Despite England's collapse in Jamaica a lot of England fans seemed pleased that West Indies were doing well again. Why do you think that is?
People have seemed shock by their demise. They were confident to the point of arrogance in the late 1970s and early 1980s, but I think everybody seems sorry for the demise of cricket in the region. I'm sure that the retirement of Lara and John Dyson arriving as coach will have given the side new resolve. Obviously the ones that enjoyed the Stanford millions are set up for life and don't have to worry about playing for their places all the time. We would all like our countries to be the best but you don't like former great cricketing countries to be in the doldrums.
We ask readers of our newsletter to send in stories about cricketers they spot and we've been inundated by tales of you being spotted on trains. You must be a big fan of train journeys?
Yes I'm a big fan of public transport in general. I travel by public transport wherever possible. I love rail travel.
You took Ian Botham to watch your hero Bob Dylan in Auckland in 1978. Have you ever been tempted to take him along to watch another of your loves, Wagner?
No I haven't. It might be a bridge too far for Ian. Six and a half hours of Wagner musical drama might test his patience.
Bob Willis is a Sky Sports studio analyst for its exclusively live and high definition coverage of West Indies v England
For details of next week's Tuesday chat, and how to send in your own questions, keep an eye on the blog.
Posted in England | 3 Comments »