February 6th, 2009 by
TWC
in
Test cricket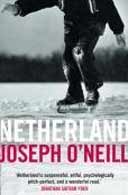 Every Friday we'll be picking a classic cricket book that has been reviewed in TWC to help you pass the weekend. Make your recommendations in the comments below.
What is it?
Netherland by Joseph O'Neill
What's it all about then?
A remarkable novel of cricket in post 9/11 New York.
What did we give it?
4/5
What did we say?
"You want a taste of how it feels to be a black man in this country? Put on the white clothes of the cricketer. Put on white to feel black."
Hans van den Broek is that white man in whites, a wealthy financial analyst cast adrift in post-September 11 New York City. Unconsciously traumatised by the experience, he has allowed his marriage to go into meltdown and his ambition to haemorrhage. Cricket is the childhood comfort upon which he accidentally stumbles and which anchors him in his hour of need.
New York cricket, however, is far removed from the genteel Anglophile pastime Hans knew growing up in his native Holland: here it is a seedy subculture played exclusively by outsiders on rough-hewn park wastelands. The straight-batted approach has no place in a society such as this, leaving Hans – an aesthetic moralist of a cricketer, who detests the notion of hitting the ball in the air – lost even as he believes he has been found.
Joseph O'Neill's remarkable book, Netherland, was described in the New York Times as "the wittiest, angriest and most desolate work of fiction" to have emerged since the collapse of the Twin Towers, yet first and foremost it is a cricket novel, something that an American audience could not normally be relied upon to absorb.
The common theme throughout is Van den Broek's passive acceptance of the hand that life has dealt him. Like the cricketer he reverts to being, he muses on the missed opportunities that have brought him to this point but he accepts the umpire's decisions without question or complaint.
And the umpire, it just so happens, is also the tale's most vivid character. Chuck Ramkissoon is a larger-than-life Trinidadian of Indian extraction, whose motto is "think fantastic" and whose dream is to build a world-class cricket stadium right in the heart of New York City. The first time we encounter him he is staring down a gunman after a disputed decision in the park but by then we already know he is dead – his remains are fished out of the Gowanus Canal on the third page of the book.
Who put him there is less important than the journey that took him there, and it is the same journey that Van den Broek finds himself taking as he tours through New York's immigrant underbelly in futile search of new meaning to his life. Ramkissoon's idealism comes across as first infectious but ultimately absurd, as Van den Broek realises the gulf in social strata that is destined to deny his friend his ambitions. "There's a limit to what Americans understand," he concedes. "The limit is cricket."
Andrew Miller, August 2008
What did they say?
'Despite cricket's seeming irrelevance to America, the game makes O'Neill's exquisitely written novel "Netherland" a large fictional achievement, and one of the most remarkable post-colonial books I have ever read.' James Wood, The New Yorker
Someone must have hated it?
'The biggest problem is Hans himself. In addition to being much less interesting than Chuck, he tells the story in a determinedly overambitious style. In spite of some fine passages, his elaborate syntax and vigorously yet fitfully Americanised vocabulary finally seem more like a literary contrivance than a plausible human voice.
At times it's hard not to wonder whether O'Neill, who's the author of an admired memoir as well as being a long-term member of the Staten Island Cricket Club, might not have done better to write a memoir-essay on New York cricket.'
Christopher Taylor, The Guardian
Why not tell us what your favourite cricket book is, or which book you'd like to see in 'The weekend read' in the comments below …
Posted in Test cricket | No Comments »