April 3rd, 2009 by
Daniel Brigham
in
Miscellaneous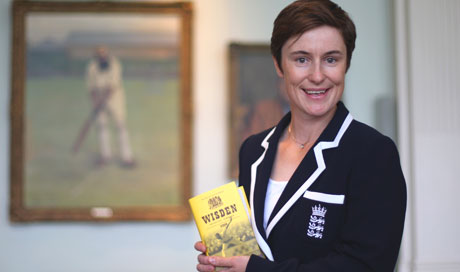 Claire Taylor becoming the first woman to appear in the Wisden Almanack's five cricketers of the year is a very good thing for the sport, but an even better thing for the men's team.
For a few days the announcement of the five will detract from the men's all-consuming, depressing winter. However, due to an act of sympathy, it won't be totally forgotten, for Taylor isn't the only English representative in the Wisden five. The lesser-celebrated English male, James Anderson, has sneaked in, despite the team winning only one of four series since the start of last summer.
That isn't to criticise James Anderson. His Test form has improved considerably over the last year and he's maturing into a world-class bowler. His bowling at Trinidad on the last day of the West Indies series was stunning. Yet you feel there's even more to come from him; still only 26, he's likely to have several better years than 47 wickets at 30.46. It appears he's included for one reason – the only other England players to have had good years (on the field), Kevin Pietersen and Andrew Strauss, are previous recipients of the honour. Anderson was the next best.
Last year, astonishingly, Ian Bell was given the award. He'd had an OK season – two hundreds at 42.18 – but no better. It was another sympathetic vote. That, and now Anderson's inclusion, shows how poor England have become.
The 2006 Almanack awarded three English internationals – Matthew Hoggard (54 wickets at 23.94), Simon Jones (23 wickets at 21.13) and Kevin Pietersen (890 runs at 42.38). All were worthy for their huge impact on Engish cricket. A year earlier than that, four England players were on the list: Ashley Giles (42 wickets at 30.50), Steve Harmison (54 wickets at 33.20, including destroying the West Indies), Andrew Strauss (1,246 runs at 56.63) and his opening partner Marcus Trescothick (1,237 runs at 47.57). Only Giles' inclusion could be queried, but by then he was an integral part of a winning machine.
We can only hope that next year it'll be Ravi Bopara (1,100 runs at 50), Stuart Broad (53 wickets at 24 and 700 runs at 30) and Graeme Swann (50 wickets at 23). That's what the heart says. The head's saying that Alastair Cook ( 800 runs at 41) seems more likely …
Daniel Brigham is assistant editor of The Wisden Cricketer
Posted in Miscellaneous | 1 Comment »