April 6th, 2009 by
Jrod
in
Miscellaneous
,
Test cricket
and tagged
Jrod
,
Test cricket
,
the wisden cricketer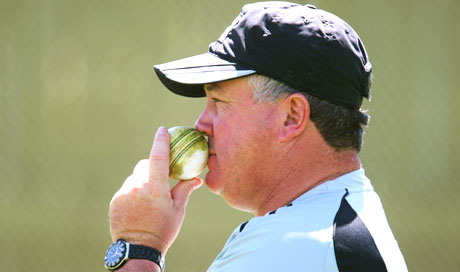 Is there any point in listening to the vast majority of cricketers and cricket coaches?
Gone are the days when you get to hear what they think; now the team psychologists and media consultants seem to weigh in on every speech.
Sport has been infected by the positive speak merchants so much that you could cut and paste Tim Nielsen's comments for Gary Kirsten, Andy Flower or Andy Moles without most people noticing.
Now the jargon has evolved from the standard sport clichés onto business acronyms and political spin.
Sure there are exceptions, Kevin Pietersen is an obvious one, but in general when anyone officially sanctioned speaks you get a steaming pile of turd on your shoes.
"We have complete confidence in (insert out of form cricketer's name here)".
Translation: Look, he is struggling, but we like him, and he's a top bloke so we aren't going to make it worse.
"I don't see how this will disrupt us, we are a professional unit".
Translation: Of course we wished it didn't happen, let's just hope we can somehow fluke a win.
"With that one win we have gained the momentum".
Translation: Let's hope we win again.
"We are taking the positives".
Translation: We can't think of anything good to say.
Do fans even stay awake when these sentences are being dribbled out to smiling clean-shaven microphone holders?
Andy Moles took it to new heights yesterday when he said, "History would suggest that there's not too many sides win from this situation". The situation he was speaking about was New Zealand 500 runs behind.
No Andy, there aren't too many sides that have won from over 500 runs behind on second innings; actually there are none.
No need to be right when you're being positive.
Jrod is an Australian cricket blogger. His site Cricketwithballs.com won last July's Best of Blogs in TWC
Posted in Miscellaneous, Test cricket | 3 Comments »