June 24th, 2009 by
Lawrence Booth
in
England
,
Test cricket
,
The Ashes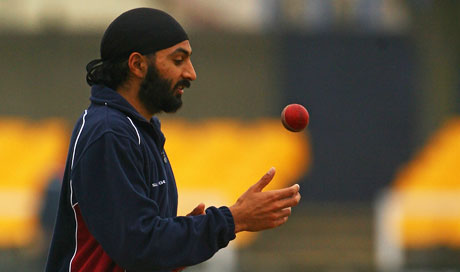 It's been easy to forget about Monty Panesar recently. Everyone accepts he's fallen behind Graeme Swann in England's spin-bowling pecking-order, but Adil Rashid's level-headed performances in the World Twenty20 raised pressing questions which Panesar's selection for England's game against Warwickshire next week have only partially answered.
The conundrum goes something like this. England are tempted to play two spinners in the first Ashes Test at Cardiff, and they would prefer to accompany Swann with Panesar (38 Tests, 125 wickets) than Rashid (four Twenty20 internationals, three wickets). But Panesar is having a horrible time of it with Northamptonshire (six second-division wickets at 86 each). So if he flops against Warwickshire, the selectors can a) draft in Rashid, or b) take the four-seamers option and pick either Ryan Sidebottom or Graeme Onions or, yes, Steve Harmison instead.
To further complicate matters, Panesar is going through a transitional phase – a formulation which, when used by football managers, usually translates as "we're rubbish at the moment", but in Panesar's case is probably true. Stung by Shane Warne's accusation that he has not played 30-odd Tests but the same Test 30-odd times, Panesar is trying to reinvent himself as the thinking man's slow left-armer. And that, as demonstrated by the sets of four leg-side byes he conceded against West Indies when he sent down his new quicker ball, takes time.
By choosing him for the Warwickshire game with 10 others who all look nailed on for Cardiff, the selectors have delivered the definitive vote of confidence. And with Mushtaq Ahmed now on board to get inside Monty's mind – previous England regimes will tell you this is no easy task – Geoff Miller and Co are right to do so.
The temptation is to believe everything Warne says (although his recent long-distance sledging of Ravi Bopara was unusually wide of the mark). There is little doubt that Panesar's lack of variety has prevented him from averaging in the late-20s rather than the low-to-mid 30s. And if you take away the 25 wickets he has claimed in three Tests at Old Trafford, his bowling average rises to virtually 38.
But bowlers are allowed to have favourite grounds, so let's put his overall performance in perspective. The four giants of English spin-bowling in the 20th century were Derek Underwood (297 wickets at 25), Jim Laker (193 at 21), Tony Lock (174 at 25), and the tragically unfulfilled Hedley Verity (144 at 24). Laker averaged nearly four wickets a Test, with the other three hovering around 3.5.
Panesar claims an average of 3.29 wickets per game, which is not a million miles away from the big four – and a considerable distance in front of some of the fairer comparisons. Phil Tufnell took 2.88 wickets per Test, Ashley Giles 2.65, Phil Edmonds 2.45, John Emburey 2.30, Wilfred Rhodes 2.19 and Ray Illingworth 2.00. And of that sextet, only Rhodes (26) and Illingworth (31) claimed their wickets at a lower average – and they operated on uncovered wickets.
Part of Panesar's problem, of course, is that he bats badly and fields with even less skill. But the 8-9 combination of Stuart Broad and Graeme Swann, plus the improvement with the bat of Jimmy Anderson, makes that less of an issue. England must be careful they don't simply pick two spinners to emphasise their superiority in that department over Australia. Equally, they must allow a proven match-winner in the past the time to mend his game.
Whether a three-day match against Warwickshire will tell us much is another matter. But then Ashes summers have never been the best time to take the long-term view.
Lawrence Booth writes on cricket for the Guardian
Posted in England, Test cricket, The Ashes | 8 Comments »