June 17th, 2009 by
Lawrence Booth
in
IPL
,
Twenty20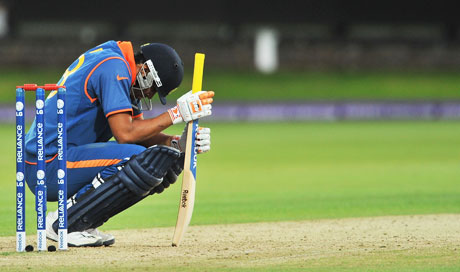 If cricket can make mugs of us all, Twenty20 heightens the effect. Your blogger recently took part on Sky's Sunday-morning Cricket Writers on TV show and semi-confidently predicted India would win the World Twenty20. The reasoning? Because their players – all their players – had just been exposed to the pressure cooker of the Indian Premier League and would therefore have no problem getting tough when the tough got going. Well, it was a nice theory.
What I failed to factor in was that the Indians were starting to believe their own hype too. Sure, the defeat to a Dwayne Bravo-inspired West Indies could have happened to anyone. That, as they will one day doubtless be saying, is Twenty20. But the loss to England was the classic hubris-nemesis one-two.
Not only did their fans boo the English as they finished their practice session on the Nursery Ground before the game, but their brains trust cooked up a scheme whereby the debutant Ravindra Jadeja was allowed to play one of Twenty20's great match-losing knocks. Even to an Englishman apparently anaesthetized over the years by watching his own team, it was painful to behold.
Before the tournament started, most observers agreed India's IPL war-wounds would trim off the rough edges. Now, their coach Gary Kirsten says the IPL tired his boys out. Pakistan, meanwhile, were supposed to have been off the pace because their players were banned from taking part in this year's IPL. And England, whose cricketers had a bit-part role only in South Africa, were arguably only a random thunderstorm away from the semi-finals too.
The point is this: Twenty20 yields to no easy explanations. The IPL is a hero one minute, a scapegoat the next. Just as we use it to justify our preconceptions (and TV punditry), so we realign the senses with the benefit of hindsight. Sport, like everything else, craves coherence, but Twenty20 denies us. It may be why this tournament has been so gripping.
Of course, the process will continue. Tillekeratne Dilshan's excellence will keep being attributed to his stint with Delhi Daredevils, even though I don't remember seeing his ramp shot once out in South Africa. Roelof van der Merwe's miserly slow left-armers will be put down to his experience with Bangalore Royal Challengers, as if he didn't know how to bowl before then. Bravo must thank Mumbai Indians and Sohail Tanvir still owes Rajasthan Royals a debt of gratitude after starring for them in 2008.
Or possibly they're just all very good players who are able to adapt their game to a situation. If India blame their feeble exit on the IPL, they are only fooling themselves.
Lawrence Booth writes on cricket for the Guardian
Posted in IPL, Twenty20 | 4 Comments »