June 16th, 2009 by
Sam Collins
in
Test cricket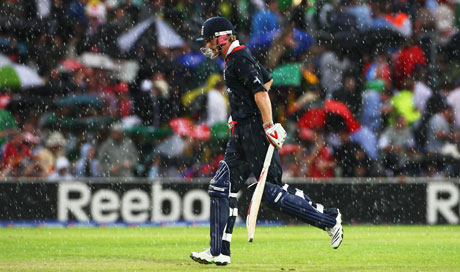 So England's Twenty20 campaign is over with more questions than answers. Did they really expect to win this tournament with a specialist wicketkeeper batting at six? Why did Paul Collingwood choose to bat first at the Oval when rain was so clearly going to play a part in the match? Does Collingwood even warrant a place in England's best XI? Yet the public mood after England's exit to West Indies was one of sympathy, not uproar. England had been hard done by. To their fans England had not lost because they didn't score enough runs, or because they couldn't bowl the right lengths or set the right fields when it mattered. No, their defeat to the West Indies exposed a flaw in the way this format copes with rain.
Statistics back up the perceived misfortune. Of the 22 matches played in the tournament so far, this was only the third match to be affected by rain, and the first to be decided by the Duckworth-Lewis method. Go back further, and England are even unluckier – in the entire history of international Twenty20 (114 matches to be precise before today's super-eights games), D/L had previously decided only three games. Of those, Sri Lanka were halted by the weather pursuing New Zealand's total back in 2006, but perhaps mindful of the threat of the weather were well ahead of the D/L rate, and the other two matches involved minnows.
In short, never before has a T20 contest between two major nations been played with the side batting second chasing a D/L target boosted by a full complement of wickets. While D/L has proved its reliability in the 50-over format, it's standing in the 20-over stuff seems less clear. That the West Indies could afford lose five wickets in six overs in pursuit of quick runs, and still regroup to win the game comfortably was not entirely as it might seem – canny organisation of their batting order saw them have Shiv Chanderpaul and Ramnaresh Sarwan coming in at No.6 and No.7. Yet it still reflected an almost impossible ask for England to stop their opponents scoring at nine-an-over for only nine overs with so many wickets in hand. Hard-nosed observers would say England should have scored more runs, and they are right, but it is more realistic to defend eight-an-over over 20 overs than crawl from the hole that D/L left them in.
Duckworth-Lewis is a method based on 'resources', namely the number of overs remaining and wickets in hand. While the targets it generates are essentially reasonable, it may be that a tweak is needed for the shortest-format to account for the advantage of pursuing a small total with plenty of wickets in hand.
It also seemed unnecessarily inflexible that, with floodlights in place and the weather set fair after between-innings rain at the Oval, the match could not be extended beyond it's scheduled 9.15pm finishing time to accommodate the full quota of overs. Tournament rules dictate, but do not lessen the frustration, and while the result may not have changed, the manner of defeat would not have stung so much.
Sam Collins is website editor of thewisdencricketer.com
Posted in Test cricket | 1 Comment »