October 6th, 2009 by
Sam Collins
in
England
,
One-day cricket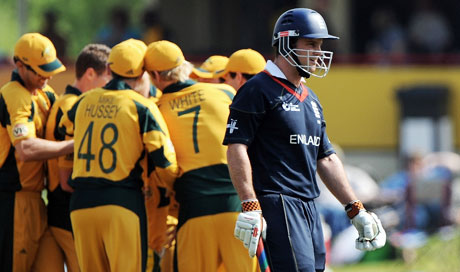 This Champions Trophy very nearly relaunched English enthusiasm for one-day cricket. It ended with 100 words in The Times – marginally more coverage than Stephen Hendry received for reaching the last 16 of the Glasgow Grand Prix and a quarter of the space afforded to news that umpires have successfully petitioned to have the tea-break extended by five minutes. For the papers, as so often with England, it's all or nothing.
On this website Sahil Dutta has already written off the competition, claiming "the best aspect of this Champions Trophy is that it will finish quickly." Yet would we have taken the same view if England had somehow beaten Australia in the semis, or even managed to win the bloody thing? Or would it then have joined football's Italia '90 or Euro '96 as misrepresented in the public consciousness – poor tournaments remembered as epics because of above-par results by England?
England were unusually calm in pursuit against Sri Lanka and almost unprecedentedly swashbuckling in setting South Africa over 300. For a moment it seemed that losing 6-1 to Australia had flicked a switch. Then came the fall – a struggle against the Kiwi new ball on a treacherous Wanderers wicket and another dismantling by that exceptional Australian team.
So what have we learnt? Not much. We are worse than Australia. We can be better than other teams but our batsmen are inconsistent. We have a couple of good young players coming through. We need more wicket-takers. Doing something about it is slightly more difficult. Perhaps first we, as a country, should focus on being slightly better losers.
Only caring about a format, or indeed a sport, when it is thrust under our faces, and then complaining when victory is not forthcoming is not conducive to success. Ask the LTA. Saying that we all hate 50-over cricket, removing it from the domestic calendar and scrubbing it from the newspapers when we are not involved is not going to make us improve, or inspire our young players to succeed.
When I spoke to Australia's Peter Siddle about the 50-over game last month he expressed the usual concerns about the format's limitations but was unequivocal about Australian commitment. "As long as 50-over cricket is played internationally Australia at least will be committed to playing the format domestically." It is an attitude we would do well to follow.
Sam Collins is website editor of thewisdencricketer.com
Posted in England, One-day cricket | 4 Comments »